Participants of a rowdy anti-Donald Trump demonstration tried to quell a gun-loving supporter who crashed the protest in New York City on Friday.
The protesters were shouting phrases like "Donald Trump equals hate" outside the Plaza Hotel when passionate Trump supporter Angelo Bonsignore confronted them.
"Learn how to shoot firearms!" shouted Bonsignore, who was wearing the iconic red "Make America Great Again" hat. "ISIS is here!"
The Trump supporter, who told TheBlaze he was at the demonstration to defend the Second Amendment, easily deflected attempts from protesters to sideline him.
At one point, a protester confronted Blaze video journalist Josiah Ryan: "This is what gets your attention? Some racist dog gets your attention?"
"What makes you say he's a racist?" Ryan asked.
"He's here supporting Trump!" the unidentified woman quipped back. "Trump is a racist!"
"Do you think everyone who supports Trump is a racist?" Ryan pressed.
"Absolutely," she replied.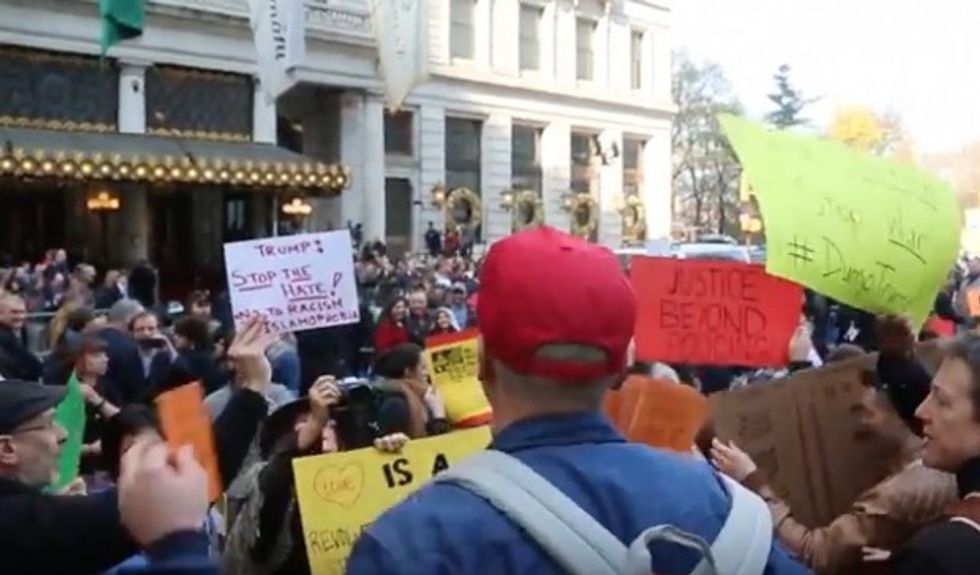 Image source: TheBlaze
One man interjected and compared Trump voters to individuals who supported Adolf Hitler.
Trump was at the Plaza Hotel for an address at the Annual New York City Commonwealth Club Luncheon.
—
Follow the author of this story on Twitter and Facebook: