Democratic presidential candidate Hillary Clinton was in a tier of her own in a good-government group's list of worst ethics violators for 2015.
The Foundation for Accountability and Civic Trust released the list that also includes Sen. Claire McCaskill (D-Mo.) and Tea Party favorite Rep. Mark Meadows (R-N.C.) and is topped by firebrand Rep. Alan Grayson (D-Fla.).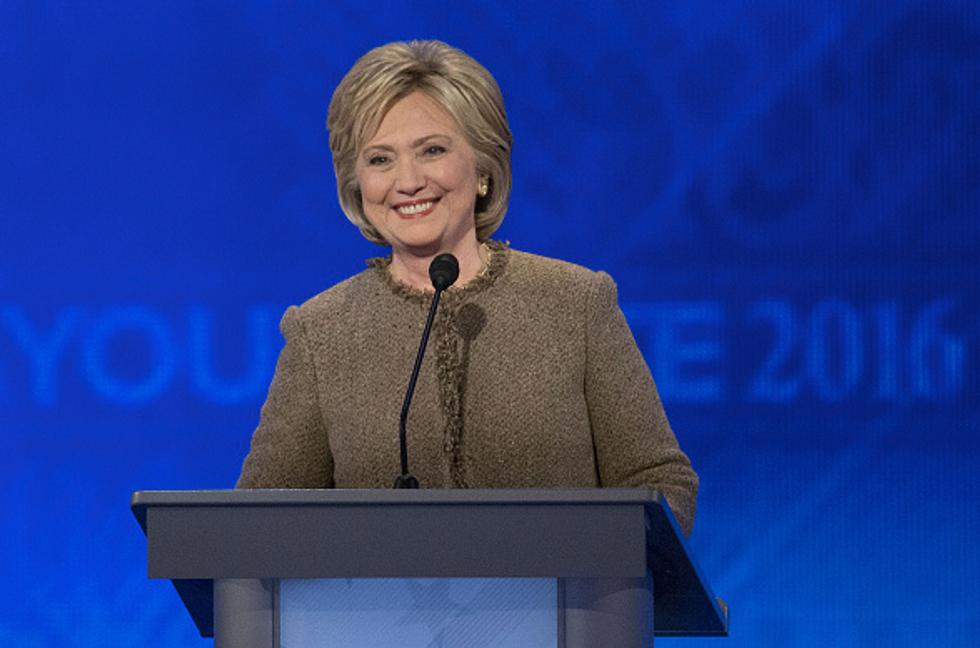 Democratic presidential candidate Hillary Clinton smiles during the Democratic presidential candidate debate at Saint Anselm College in Manchester, New Hampshire, Dec. 19. (Andrew Harrer/Bloomberg via Getty Images)
The group takes Clinton to task for the private email server used while she was secretary of state. The FBI has been investigating whether classified information was sent or received over the server.
Further, the organization had called for a federal probe into communications that suggest Clinton — during her time at the State Department — gave special treatment to a private mining company because of the company's affiliation with her son-in-law. Further, FACT has asked the Internal Revenue Service to investigate whether the Clinton Foundation violated any rules in helping to pay off part of Clinton's 2008 campaign debt.
FACT also wants the Federal Elections Commission to look into potential illegal coordination between Clinton's campaign and the super PAC, Ready for Hillary, after the PAC shared an email list of 4 million names.
"Elected officials are sent to Washington to follow and uphold the law and so they need to be held to the highest standard of ethics," said Matthew G. Whitaker, former U.S. attorney for Iowa.
"Even the appearance of impropriety can quickly erode public trust, and Ms. Clinton is in a league of her own," Whitaker, the FACT executive director, added. "We will continue to vigorously hold the lantern over unethical behavior so that we have a government that serves the public's interest, not the self-interests of leaders who think they are beyond reproach."
The list targets seven other politicians.
Grayson may have violated House ethics rules for his management of hedge funds that use Grayson's name in the title. The House rules prohibit members from engaging in certain outside employment, specifically "professions that provide services involving a fiduciary relationship."
Meadows became widely known this year as a member of the House Freedom Caucus who played a key role in bringing about the resignation of House Speaker John Boehner (R-Ohio). But FACT has asked the Office of Congressional Ethics to investigate Meadows, saying the lawmaker continued to pay his former chief of staff for almost three months after the employment had ended.
McCaskill spent $40,000 to conduct a poll of Missouri Republicans, FACT said. Her campaign later provided data and information to her eventual Republican opponent Todd Akin during her 2012 re-election. FACT asked Federal Election Commission to investigate the McCaskill campaign's involvement in the state's Republican primary. In a statement about its FEC complaint about McCaskill, FACT said:
The complaint says McCaskill admitted to helping Akin win the Republican primary because she believed she could beat him in the general election. The Missouri senator wrote a piece in Politico this week sharing how she spent $40,000 polling Missouri Republicans, and that staffers on the Akin campaign spoke with McCaskill's pollster.

Federal law limits in-kind campaign donations to $2,500, a figure the complaint says McCaskill violated by allowing her pollster to share data with the Akin campaign.
"The goal was to help Akin, McCaskill's preferred opponent that year, win the Republican Primary," the FACT press release said. "McCaskill joked about the incident. A companion complaint was also filed against Akin."
To see the full list, click here.