Sen. Ted Cruz (R-Texas) is the only Republican presidential candidate who wouldn't lose to Democratic front-runner Hillary Clinton in a general election head-to-head match up, according to a new Quinnipiac poll released Tuesday morning.
The poll posed six different head-to-head match ups to its respondents. The first three were between GOP candidates Cruz, Donald Trump, Sen. Marco Rubio (R-Fla.) and Clinton; the next three pitted the three Republicans against Democratic candidate Sen. Bernie Sanders (Vt.).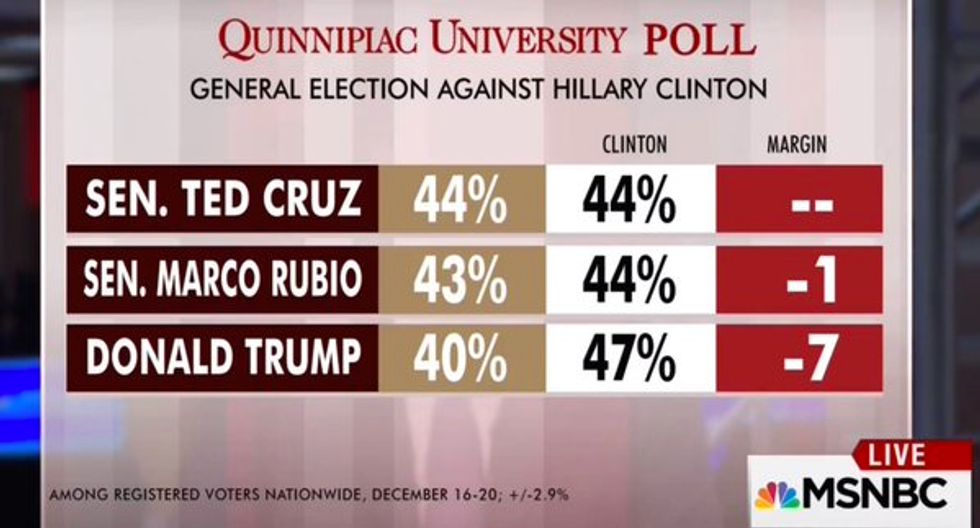 Image source: MSNBC
While the poll found that Cruz wouldn't lose to Clinton, it also found that he would not defeat her. In fact, a Cruz-Clinton match-up would be a tie, according to the poll, 44 percent to 44 percent. Rubio would lose only narrowly to Clinton, 43 percent to 44 percent, while Trump would lose big, 40 percent to 47 percent.
If Sanders were the Democratic nominee, the poll found that both Cruz and Rubio would defeat the self-described Democratic-socialist. Trump, on the other hand, would lose by an even wider margin than he would to Clinton — 38 percent to Sanders' 51 percent.
The poll also found that following last Tuesday's Republican debate, Cruz continues to chip away at Trump's massive lead. While the Real Clear Politics national average has Trump's lead at more than 15 points, the Quinnipiac poll found that Trump is leading Cruz by only four points, 28 percent to 24 percent.
The poll stands in stark contrast to other post-debate polls, which found that Trump's lead had stretched to new heights. A Fox News poll even had Trump up by more than 20 points over Cruz.
—
Follow the author of this story on Twitter and Facebook:
[facebook //www.facebook.com/plugins/like.php?href=