Vulgarity was not in short supplly when Republican presidential frontrunner Donald Trump attacked his Democratic counterpart at a campaign rally in Michigan Monday night.
The business mogul told the crowd in Grand Rapids that Hillary Clinton was mired in losses, adding that she got "schlonged" by President Barack Obama in 2008.
"I may win, I may not win. But Hillary — that's not a president," Trump said. "Everything that's been involved in Hillary has been losses. Even her race to Obama, she was going to beat Obama. I don't know who'd be worse. I don't know. How does it get worse? She was favored to win and she got schlonged."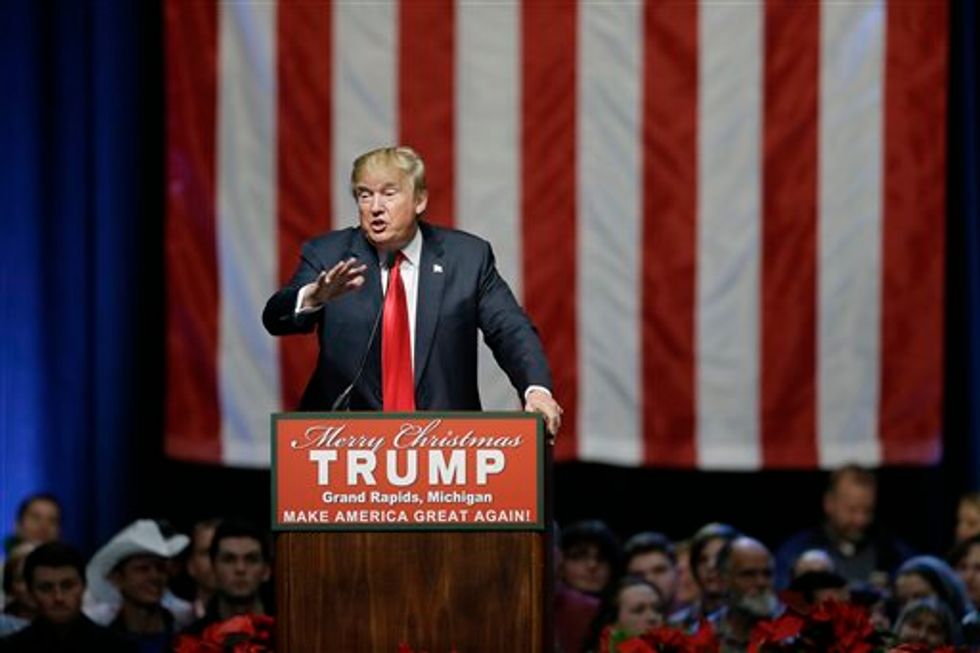 Republican presidential candidate, businessman Donald Trump addresses supporters at a campaign rally, Monday, Dec. 21, 2015, in Grand Rapids, Mich. (AP Photo/Carlos Osorio)
Trump also took a jab at Clinton's overlong bathroom break during the Democratic presidential debate over the weekend. For a brief time, the ABC debate moderators continued to ask Vermont Sen. Bernie Sanders (I) and former Maryland Gov. Martin O'Malley questions until Clinton came back to her podium with a simple "sorry."
Clinton reportedly was held up as the women's restroom is farther away from the stage as the men's facilities were, and she waited for it to clear out before she went inside.
"I know where she went. It's disgusting. I don't want to talk about it. No, it's too disgusting," Trump said during the rally. "But wasn't that a weird deal? They're ready to start, we're looking. They gave her every benefit of the doubt because it's ABC and she practically owns ABC."
CNN reported that Trump's campaign rally was interrupted more than a dozen times by protesters on Monday — which Trump unsurprisingly mocked.
Watch Trump's comments below.