Further ratcheting up tensions between the two Persian Gulf adversaries, Iran Thursday accused Saudi Arabia of deliberately carrying out an airstrike on its embassy in Yemen and wounding its staff at the site. However, both the Associated Press and Reuters, quoting those who visited the site, reported that the building bore no visible damage.
"This deliberate action by Saudi Arabia is a violation of all international conventions that protect diplomatic missions," Iranian foreign ministry spokesman Hossein Jaber Ansari was quoted as saying by state television, Agence France-Presse reported.
"The Saudi government is responsible for the damage caused and for the situation of members of staff who were injured," Ansari said.
He warned, "The Islamic republic reserves the right to pursue its interests in this matter."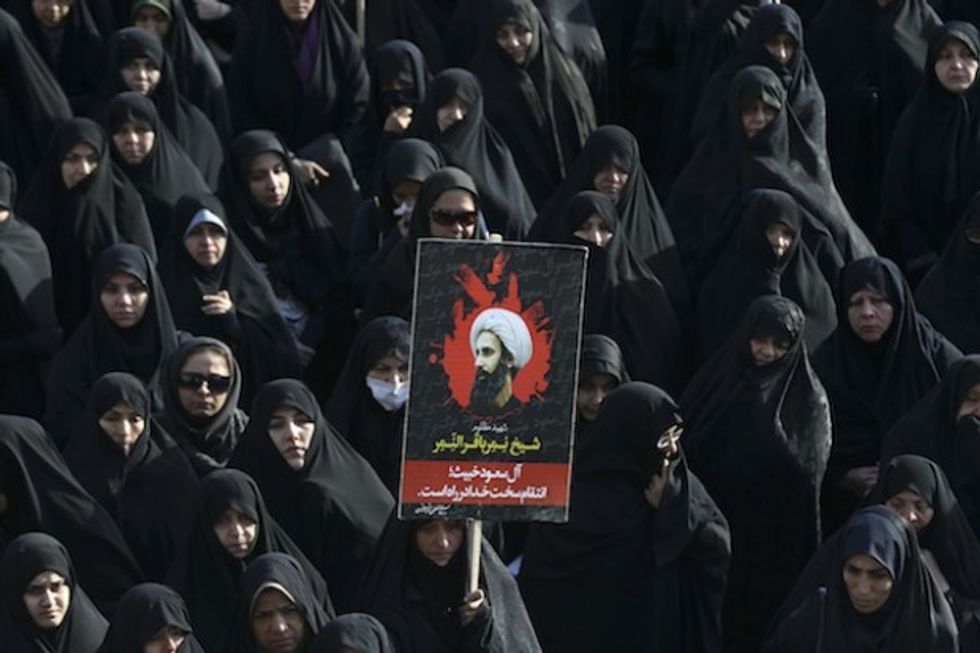 In this Jan. 4 photo, an Iranian woman holds up a poster showing Sheikh Nimr al-Nimr, a prominent opposition Saudi Shiite cleric who was executed by Saudi Arabia. Diplomatic tensions between Saudi Arabia and Iran, which began with the kingdom's execution of al-Nimr and later saw attacks on Saudi diplomatic posts in the Islamic Republic, have seen countries around the world respond. On Jan. 5, Iran President Hassan Rouhani said that Saudi Arabia's move to sever ties with his country couldn't "cover its crime" of executing al-Nimr. (AP Photo/Vahid Salemi, File)
A resident of the Yemeni capital of Sanaa went to the embassy Thursday and told Reuters that there was no damage to the Iranian diplomatic mission, but there was shrapnel nearby.
An Associated Press reporter also visited the embassy just after the announcement and saw no visible damage to the building.
Reuters quoted a Saudi-led coalition spokesman who said airstrikes Wednesday night in Sanaa had aimed at Houthi rebel missile launchers, adding that rebels were using abandoned embassies to shield their operations.
The spokesman, Brig. Gen. Ahmed Asseri told Reuters that the coalition would investigate Iran's accusation that its embassy had been struck.
The weekend execution in Saudi Arabia of Shiite cleric Sheikh Nimr al-Nimr and 46 others sent Saudi-Iranian relations in a downward spiral. Iranians protested the execution by storming the Saudi embassy in Tehran and setting it on fire. Hours later on Sunday, Saudi Arabia cut off diplomatic relations with Iran.
Sunni-ruled allies of Saudi Arabia have followed suit, taking diplomatic action against Iran, with Bahrain and Sudan also cutting ties. Kuwait and Qatar announced they were recalling their ambassadors, while the United Arab Emirates downgraded relations.
Saudi Arabia and Iran are supporting opposite sides of the fighting in Yemen.
AFP reported that Iran on Thursday also banned all products from Saudi Arabia and that a ban on Iranians traveling for religious pilgrimage to Mecca would continue.