Republican presidential candidate Sen. Marco Rubio (Fla.) says he has the best understanding on immigration of every candidate currently running for president.
"No one understands immigration — running for president — better than I do in every aspect of it," Rubio said boldly in an exclusive interview with Glenn Beck that aired Thursday night on TheBlaze TV.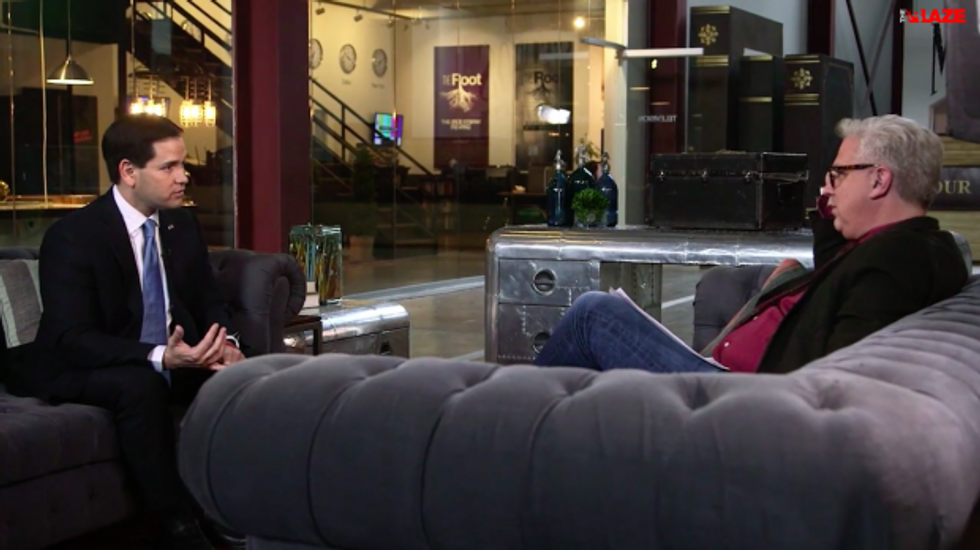 Marco Rubio discusses immigration reform with Glenn Beck. (Image source: TheBlaze TV)
According to Rubio, it is his heritage and upbringing that gives him that understanding. The 2016 hopeful says that both his parents and his grandparents are immigrants as well as his wife's entire family. In addition, Rubio says he was raised in an immigrant community.
"I live in a community of immigrants and I was raised in one, so I understand every aspect of this issue," Rubio, who lives in Miami, Fla., said.
Rubio went on to say he does not support amnesty and believes there should be "real significant consequences" for violating U.S. immigration laws. The sitting senator also said sanctuary cities should lose all federal funding because they "violate our laws."
When Beck first asked Rubio about his stance on immigration, he said the issue was the "No. 1 question" from his listeners, citing the lawmaker's efforts as part of the "Gang of Eight" which lead to a 2013 immigration bill that would have provided a pathway to legalization and possibly citizenship for illegal immigrants.
However, Rubio was quick to voice his conservative views on immigration reform, claiming he would never support amnesty as president and that he would "build and complete 700 miles of fences and walls in the key sectors of the border."
"I've been pushing for this, way back in 2013 we pushed for this: 20,000 new border agents, mandatory E-Verify, an entry-exit tracking system. I don't know about the people in the past, but I understand this issue," Rubio told Beck.
Complimentary Clip from TheBlaze TV The full episode of The Glenn Beck Program, along with many other live-streaming shows and thousands of hours of on-demand content, is available on just about any digital device. Click here to watch every Glenn Beck episode from the past 30 days for just $1!