Republican presidential hopeful Sen. Marco Rubio (R-Fla.) says there is "no reason" ancient Christian communities in the Middle East should be destroyed. In fact, Rubio believes the U.S. should be working to help the Christians defend their homeland.
"There is no reason why we should live in a world where ancient Christian communities are permanantly uprooted from the Middle East," Rubio told Glenn Beck in an hour-long interview on TheBlaze TV. "[Y]ou could very well see in less than a decade a massive outflow of Christians from the Middle East to the point where this ancient presence has been erased."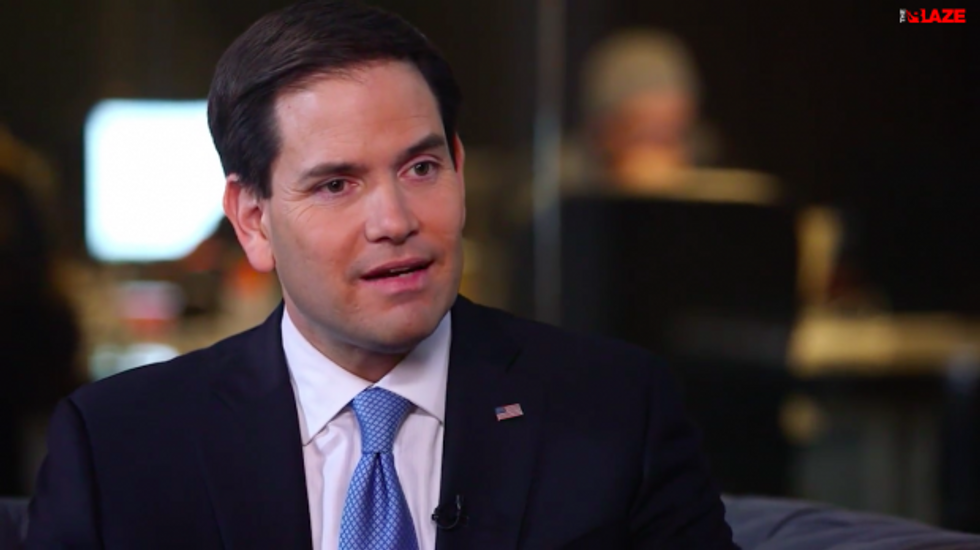 Marco Rubio discusses Christian persecution in the Middle East with Glenn Beck. (Image source: TheBlaze TV)
In order to fix the problem, Rubio said the U.S. needs to deal with immigration first.
"No. 1, when I'm president, if we don't know 100 percent, for sure, who you are and why you are coming, you cannot come in, and that will have to be true from almost any part of the world at this point," Rubio told Beck.
Rubio went on to say that communities in the Middle East are "well-organized," adding that the U.S. can "deduce who people are." The senator added that his goal is not "simply to save them," but that he wants displaced Christians to return to their homeland.
"These are ancient communities that have had a presence in the Middle East for over ... 1,700 years," Rubio said. "It is a shame that you would lose this presence as this is happening."
Rubio said the U.S. need to create the opportunity for these Christians to one day return, a topic he believes has not been talked about enough.
"There are Christians who want to be able to defend themselves. We have also not allowed that to happen, in essence, we have not worked with them in the way we should be," Rubio insisted.
According to the 2016 hopeful, the U.S. has left persecuted Christians "at the mercy of the Kurds and the Peshmerga," who he credited with being helpful. However, he also said Christians in the Middle East have been left at the mercy of Muslim communities who have not always "been as protective of the Christians as they have been of themselves or others."
Ultimately, Rubio told Beck his top priorities are saving as many lives as possible in the short term and, in the long term, figuring out how ancient Christian communities in the Middle East can be "reclaimed and restored."
Complimentary Clip from TheBlaze TV The full episode of The Glenn Beck Program, along with many other live-streaming shows and thousands of hours of on-demand content, is available on just about any digital device. Click here to watch every Glenn Beck episode from the past 30 days for just $1!