Florida Sen. Marco Rubio defended a 2004 bill he cosponsored as a state lawmaker that provided in-state tuition for students of undocumented immigrants — and said he "absolutely" stands by it.
The Republican presidential hopeful told ABC's George Stephanopolous on "This Week" that the bill in question was "very narrowly drafted" and allowed for high-performance Florida high school graduates who met certain academic requirements to apply for in-state tuition for college.
"It was a very narrowly tailored to high-performance students who found themselves in a situation where they were brought here by their parents when they were five, didn't even speak another language except English, and therefore, couldn't attend college because they were being charged like they were out-of-state," Rubio said. "They still had to pay for college, but they paid what people paid where they lived in Florida. They had to be high school graduates of Florida."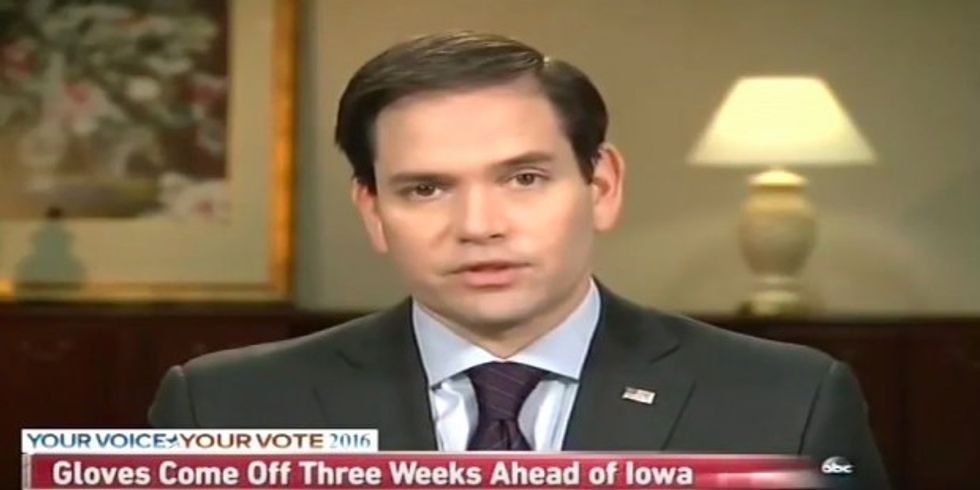 Image source: YouTube
Rubio continued to say that he "absolutely" stands by a "narrowly tailored bill like that."
"We didn't legalize anybody — that's the issue here," Rubio said.
The Florida senator went on to hit fellow GOP presidential hopeful Texas Sen. Ted Cruz on his own immigration stance.
"And the truth is, when it comes to Ted, he has changed his position on immigration all over the place," Rubio said.
"This is not consistency; this is calculation as he's changed his position on these issues as we get closer to election days," he continued.