A French Muslim cleric said in a recent sermon that Muslims can hold allegiance only to the Koran, likening it to a constitution superior to the French Constitution and an anthem greater than national anthem of France.
"The book of Allah is our anthem, our identity. It has been said that the Quran is our constitution," French Imam Mohamed Khattabi said in a Jan. 1 sermon, excerpts of which were translated this week by the Middle East Media Research Institute.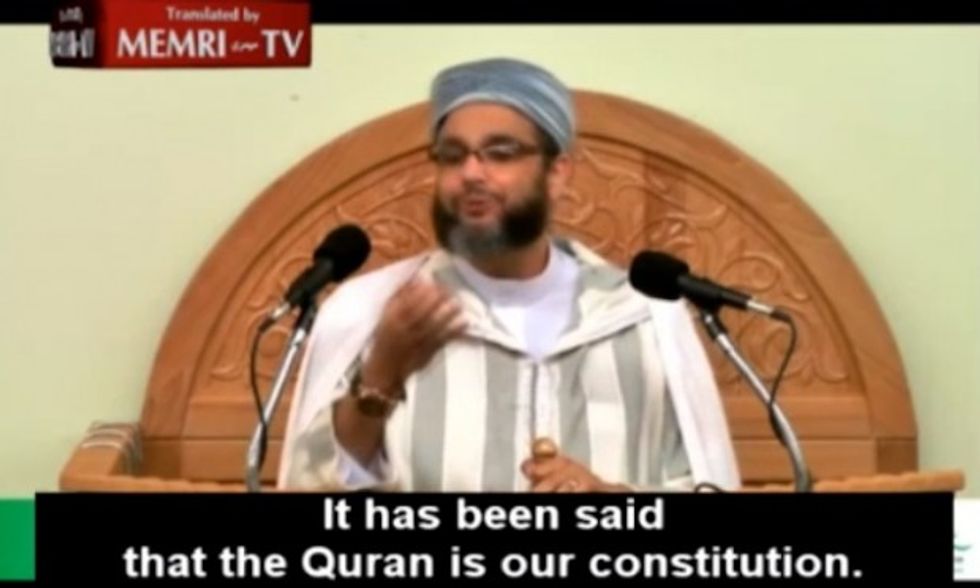 French Muslim cleric Mohamed Khattabi said that for Muslims the Koran is the only constitution. (Image source: MEMRI)
The same cleric previously said he dreamed Muslims would one day rule France, Britain, Germany and Belgium. That sermon was delivered just hours before the November Islamic State-linked Paris attacks, where 130 people were killed.
In his New Year's Day sermon, Khattabi tried to answer those in France who have criticized Muslim immigrants who never learned the words of the French national anthem, "La Marseillaise."
"The Muslims would like to recite the first verse of the Koran. … 'La Marseillaise' was composed by a mere mortal, whereas the Koran was composed by God — sorry conveyed, not composed, by God," he told the Montpellier congregation.
"My Koran, my book, the word of my Lord, I sing its praises, I am proud of it and I pray with it, so you complain that we have not learned to recite 'La Marseillaise' when you would like to alter the Koran? What kind of abomination is this?" he said.
"We are supposed to prefer man-made words over words conveyed by God?" Khattabi said, adding that his remarks were applicable to any country, not only France.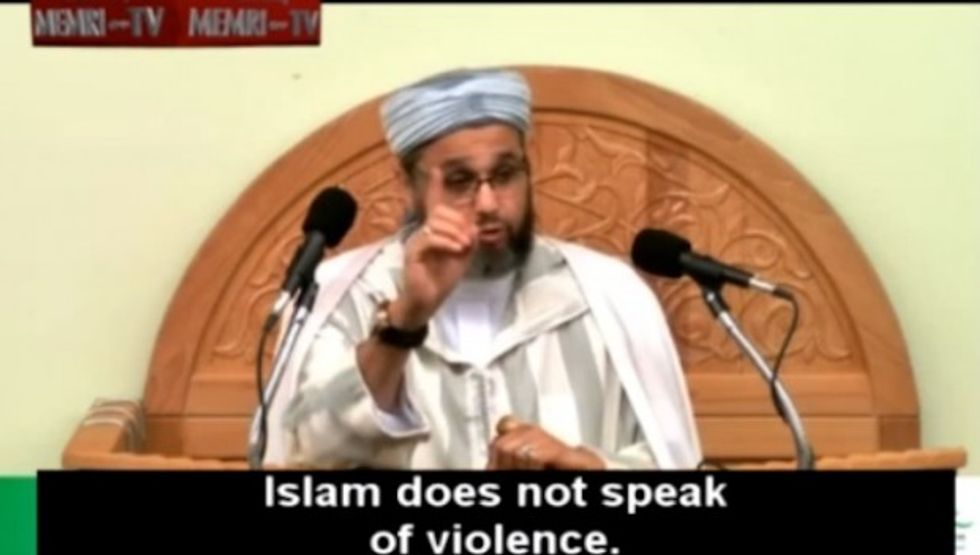 Mohamed Khattabi believes the Christian and Jewish Bibles are "nine times" more violent than the Koran. (Image source: MEMRI)
The imam also asserted that the the Christian gospels and the Torah are "nine times" more violent than the Koran.
"Islam does not speak of violence. … There are numerous verses on killing and violence in the gospels and in the Torah and only a few in the Koran," he said.
In his November sermon, Khattabi said, "We dream of seeing our children become ministers and dignitaries, and even presidents. Why not? We want them to rule France one day, to rule Belgium, Germany and Britain."
He went on to say that for Muslims, the concepts of homeland, borders and nation can only be centered on a belief in Allah and the Prophet Muhammad, not Western concepts of nationalism.