Given his often-sharp criticism of Republican presidential candidate Donald Trump, it may come as no surprise that radio show host Glenn Beck said Friday that the "establishment media" would "crucify" the billionaire businessman, should he get the GOP nomination.
Following Thursday night's debate, it is Trump and Texas Sen. Ted Cruz who are dominating headlines, mostly for their intense sparring matches over Cruz's criticism of "New York values" and Trump's insistence that the Texas senator is ineligible for the White House.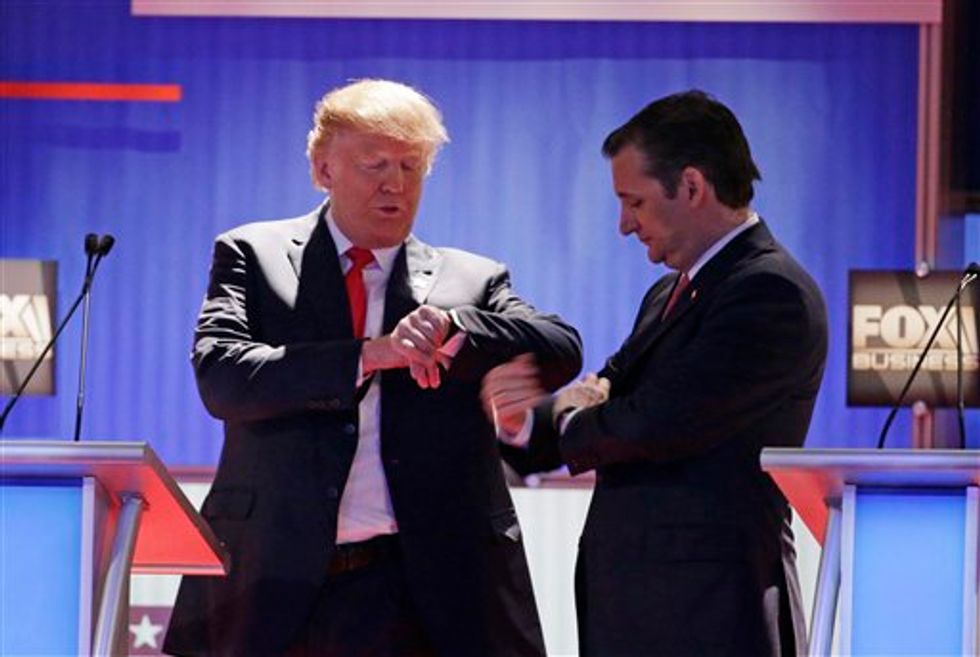 Donald Trump speaks to Ted Cruz at a break during the Fox Business Network Republican presidential debate at the North Charleston Coliseum, Thursday. (AP/Chuck Burton)
As the race narrows and the conversation swirls around those top-tier candidates, Beck is looking past the current campaign process, and voicing concern for the general election.
According to Beck, both Trump and the media have set their sights on one goal: taking Cruz out of the equation. Without the Texas lawmaker in the running, the radio host purports, Trump scores the nomination, which Beck believes is a loss for the GOP and a win for the "establishment media."
Beck believes the race comes down to three candidates: Trump, Florida Sen. Marco Rubio and Cruz. In Beck's mind, if you take Cruz out, Trump or Rubio gets the party's nomination; but, if you take Rubio out, Cruz trumps the New York businessman.
"You take out Cruz, you get one of the two guys that the establishment is going to crucify. The establishment media is going to crucify Donald Trump," Beck remarked.
In order to make his case, Beck argued that — just as the media has raised concerns about Cruz's Senate campaign finance — questions about Trump's business record will certainly make headlines.
"Have you noticed, they're talking about, 'Do you know that Ted Cruz had a loan?' Are you telling me there's nothing in Donald Trump's business that he has done that is even at all questionable? You haven't heard anything," Beck said.
"You haven't heard the sob stories of the little old lady that lost her home so he could build a parking lot," he continued. "You haven't heard about the golf courses that he wants to build, that he was just going to take all of these old poor people's houses."
Beck says voters will "absolutely" hear stories about the billionaire's "questionable" record, adding that the media will turn Trump "into the biggest monster on the planet."
Complimentary Clip from TheBlaze TV The full episode of The Glenn Beck Program, along with many other live-streaming shows and thousands of hours of on-demand content, is available on just about any digital device. Click here to watch every Glenn Beck episode from the past 30 days for just $1!
—
Follow the author of this story on Twitter: