A historic building in Pennsylvania was partially destroyed earlier this month, Sentinel of Carlisle, Pennsylvania, reported. The developers responsible for the blunder claimed that they were unaware that the building was the birthplace of the Bill of Rights.
Originally known as the James Bell Tavern, the building hosted a meeting in 1788 of anti-Federalists, the group opposed to the ratification of a national Constitution. The anti-Federalists drafted several amendments to the document that eventually resulted in the Bill of Rights, which was adopted in 1791.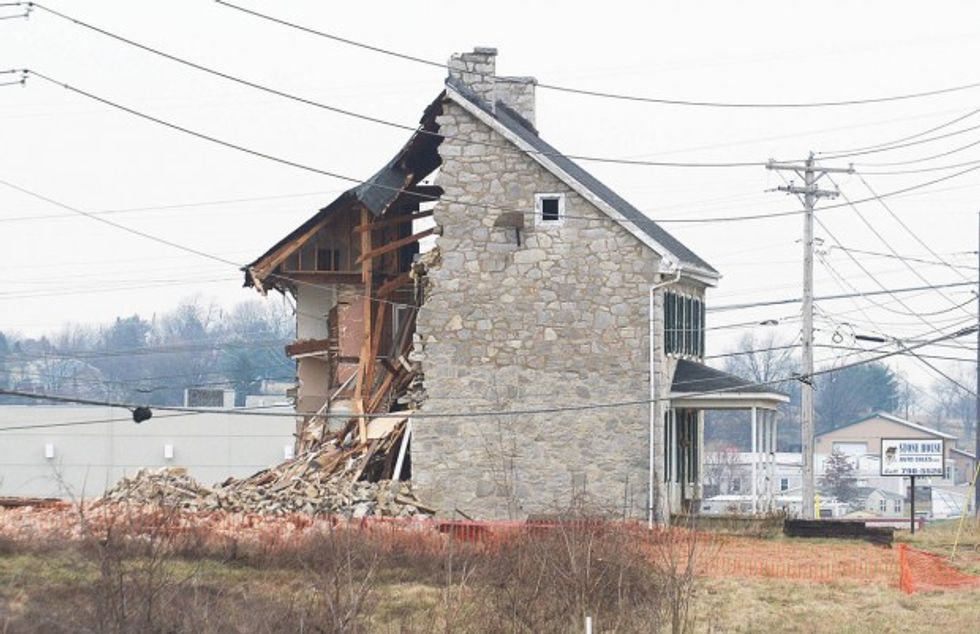 A building where the Bill of Rights is believed to have been drafted was partially demolished in January. (Michael Bupp/The Sentinel)
According to PennLive, though several documents from the original 1788 meeting have been preserved and the tavern initially qualified for a listing in the National Register of Historic Places, a formal designation was never sought.
"Whether intentional or by error in 1995, the Bell Tavern was not listed as an historic, protected building on the Township's Cultural Features Map and Historic Buildings List referred to in our zoning ordinance," a news release from Silver Spring Township officials said.
That failure to list the building led to the tragic mistake.
Triple Crown Corporation, the company that owns the property, obtained a permit from Silver Spring Township to tear down the two-story stone structure that had been functioning as an auto sales store, the Sentinel reported.
Christine Musser, a member of the Township's Conservation and Preservation Committee, was notified of the building's significance by an "outside source" and worked to postpone the demolition.
"Triple Crown apparently had no clue of the building's historical significance," Musser told the Sentinel. "It was an oversight."
"Those of us, Township staff and elected officials, who work on behalf of the people of Silver Spring Township, were upset by the circumstance. To further protect historic buildings and sites within the township, we have taken steps to update the historic building map and list," a news release from the township said.
Township officials announced that they have instated an administrative measure to ensure that future demolition projects are screened for historic site compliance by the township before demolition permits are granted.
(H/T: Fox News)