In his speech in Las Vegas Thursday night, Republican front-runner Donald Trump declared that as president, he would transform himself into an establishment politician in order to get "deals done."
The real estate mogul said his idea would be similar to what former President Ronald Reagan had to do, which was work with Democrats in Congress. Specifically, Trump cited former House Speaker Tip O'Neill (D-Mass.).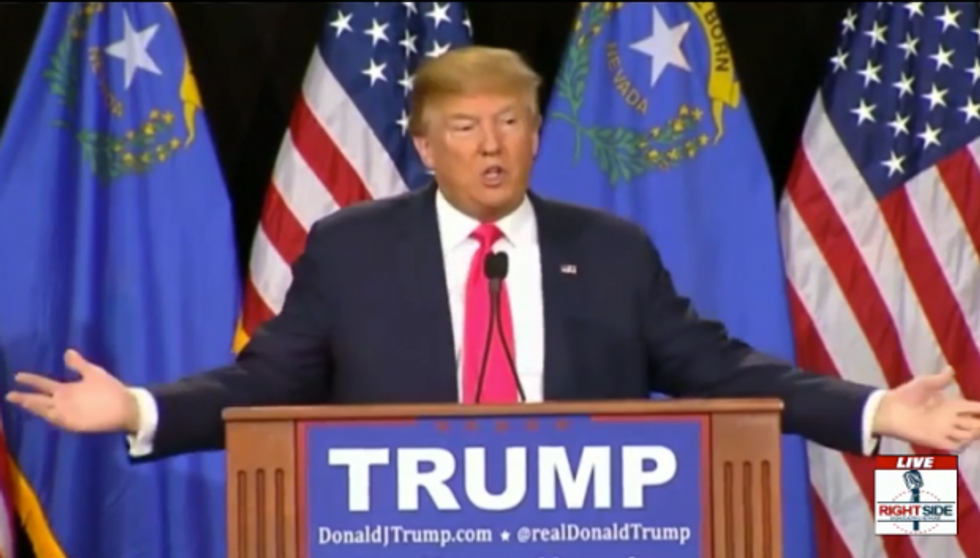 Image source: Youtube
"And you know what? There's a point at which let's get to be a little establishment," Trump said. "We gotta get things done folks, OK? Believe me, don't worry, we're gonna make such great deals."
Trump went on to say that in order to actually accomplish things in Washington, you have to be establishment.
"You know in the old days, Ronald Reagan, and I remember it so vividly — I was a young guy, I helped Ronald Reagan and I really liked him," Trump continued. "So what happens? Ronald Reagan would get along with Tip O'Neil. And they'd sit down. And they'd make great deals for everybody. That's what the country's about, really, isn't it?"
"I mean we can all be tough but you know at some point we gotta get our country back on track," he added.
Trump's establishment tendencies has been a constant point of criticism from rival Ted Cruz that a "President Trump" would be more of the "same old, same old" problem in Washington. Cruz made his initial comments Tuesday night in an interview with Buzzfeed News.
In that interview, Cruz also explained why establishment politicos are jumping ship from Jeb Bush's campaign, and hitching a ride with Trump. Cruz said it was because Trump has "promised to make deals and to continue the cronyism and corporate welfare of Washington."
Watch Trump's comments below. The relevant part of the video begins at 26:18:
—
Follow the author of this story on Twitter and Facebook:
[facebook //www.facebook.com/plugins/like.php?href=