President Barack Obama became the first president to speak at the Israeli Embassy Wednesday, pledging solidarity with Israel, even as the president and Israeli Prime Minister Benjamin Netanyahu continue to have an icy relationship.
"We must confront the reality that, around the world, anti-Semitism is on the rise. We cannot deny it," Obama said at the Israeli Embassy in Washington to mark International Holocaust Remembrance Day and the 71st Anniversary of the liberation of Auschwitz, a Nazi concentration camp in Poland. "I've made sure that the United States is leading the global fight against anti-Semitism."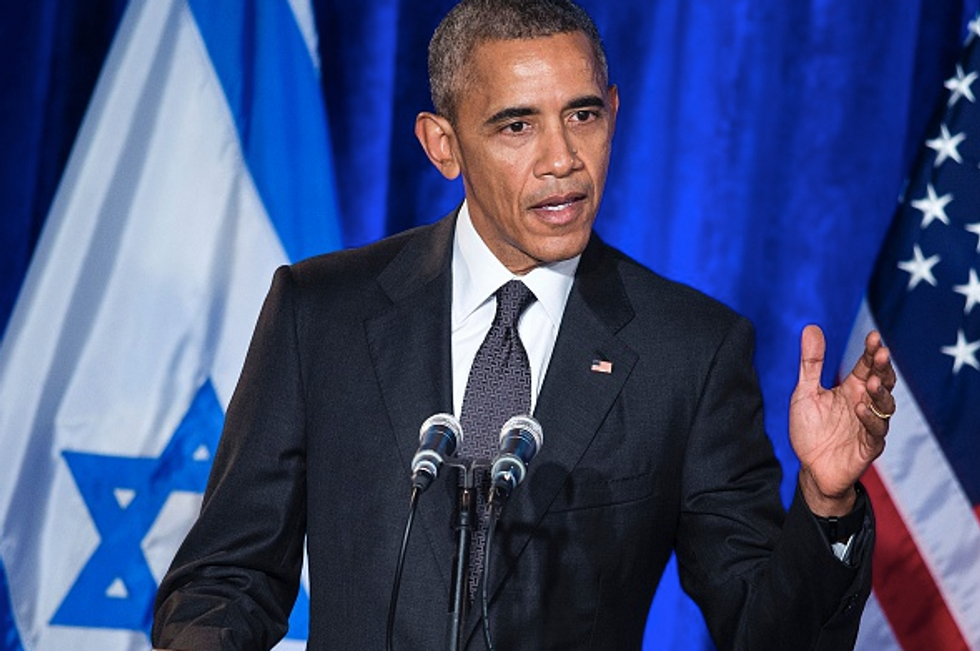 President Barack Obama addresses the Righteous Among the Nations Award Ceremony at the Israeli Embassy January 27, 2016 in Washington, DC. (BRENDAN SMIALOWSKI/AFP/Getty Images)
Though Obama has frequently been criticized for having a wavering commitment to Israel, particularly in light of the recent Iran nuclear deal, which the Jewish state strongly opposed, Obama said it would "be a fundamental moral failing" for the United States to break its bond with Israel.
"America's commitment to Israel's security remains, now and forever, unshakeable," Obama said to applause.
Hollywood director Steven Spielberg introduced Obama and Netanyahu delivered a video message about the strong U.S.-Israeli bond, and the horror of the Holocaust.
Four individuals were recognized with the Righteous of the Nations Awards, for putting their own lives at risk to save the lives of Jewish people during World War II.
As described by the White House, the four were:
Master Sergeant Roddie Edmonds participated in the landing of the American forces in Europe and was taken prisoner by the Germans at the Battle of the Bulge. While in captivity, the Germans ordered the captured Jewish POWs at the camp to report. Master Sergeant Edwards, the highest-ranking American non-commissioned officer, ordered all of the U.S. soldiers to stand together, and he announced to the German officer, "We are all Jews." The German officer gave up, and the Jewish soldiers' lives were saved.

Lois Gunden was an American teaching in France who helped smuggle Jewish children out of an internment camp and into a children's home she established.

Walery and Maryla Zbijewski were a Polish couple who put their lives at risk to secretly house a Jewish child in Warsaw for several months.
"We hear their stories and are forced to ask ourselves, under the same circumstances how would we react? How would we answer God's question, where are you?" Obama said.
He said that Americans should "make common cause" with all people, "whether Christian or Jew, Hindu or Muslim, native or immigrant, Israeli or Palestinian."
"An attack on any faith is an attack on all our faiths," Obama said.