During the recent East Coast winter storm, complete strangers banded together in order to save a truck driver's life.
Those strangers, near the town of Bedford, Pennsylvania, formed a human chain to reach the driver after his tracker-trailer crashed and was teetering off a hillside.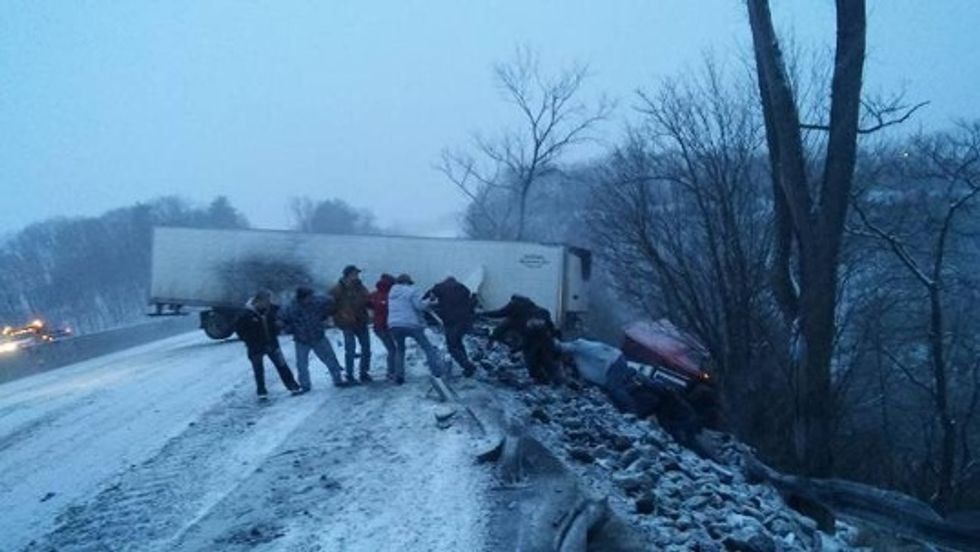 Image source: WTAE-TV
"It was a mess, dangerous," Arlyn Satanek, a witness to the incident, told WTAE-TV. "The truck was smoking, couple hundred gallons of diesel fuel, debris everywhere. People didn't seem to care, they jumped out to help."
According to Satanek, who is also a truck driver, the roads in the area were completely covered with snow. So much so, that one trucker radioed to the others telling them to slow down and use extreme caution through the area.
"I saw the truck out in front of me pretty much finishing his wipe out and cutting of the entire two lanes of traffic and angling down over the cliff," he said, describing that the truck took out more than a half mile of guardrail. In addition, there was debris and diesel fuel covering the road. The driver of the wrecked truck was stuck in his cab and injured.
"It was just like everyone knew in that moment we have to reach him, 'Let's lock into this and get this guy up.'" Satanek said. "It was awesome."
That's when Satanek said he decided to take a picture of the human chain to remember the moment and to record the incident.
"I don't know any of their names, what their faces looked like," he said. "I can only say they made a terrible situation a little bit better by helping someone out that was really in need."
There is no update on the condition of the trucker.
(H/T: WTAE-TV)
—
Follow the author of this story on Twitter and Facebook:
[facebook //www.facebook.com/plugins/like.php?href=