DES MOINES — After making their final pitches to voters ahead of Monday's Iowa caucuses, Republican candidates Rick Santorum and Mike Huckabee got ready to head to Donald Trump's event for veterans two-and-a-half miles across town.
"I've got nothing else going on tonight, so let's go over there and support them," said Huckabee, the former governor of Arkansas, in the spin room following the Fox News undercard debate.
Huckabee also defended Trump's decision to funnel money raised through the Donald J. Trump Foundation, arguing that no one's accusing Trump of lining his pockets with money meant for veterans.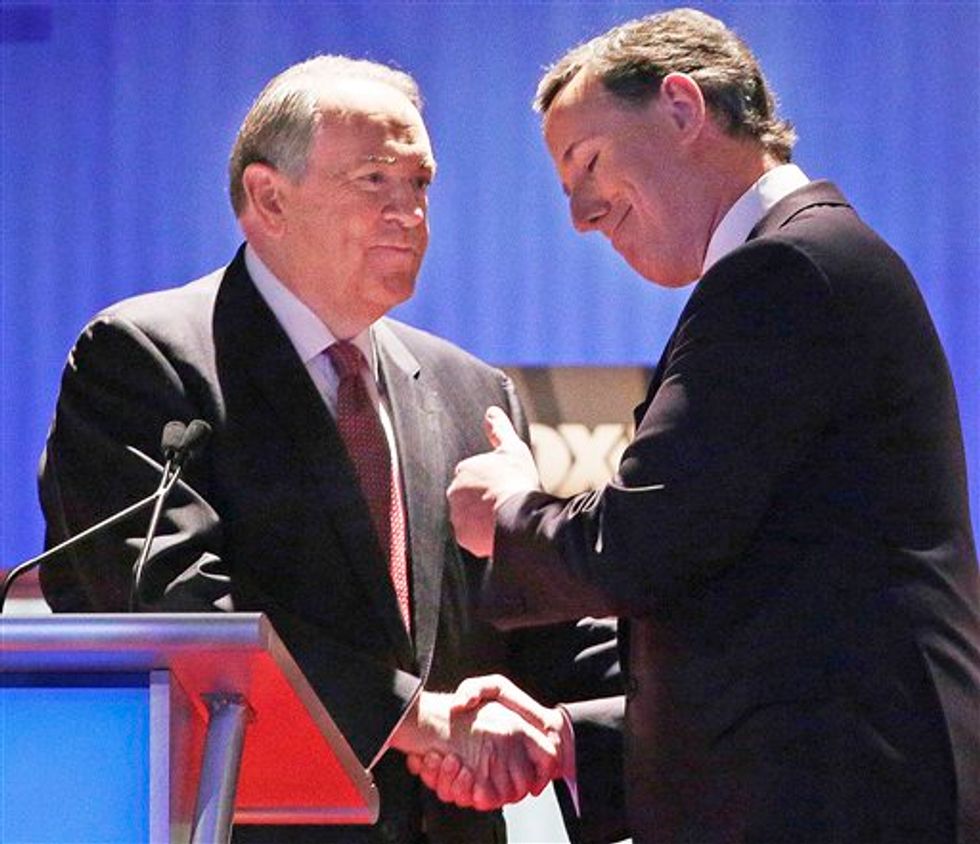 Candidates Mike Huckabee and Rick Santorum interact at a debate. (AP Photo)
"There's one guy on the planet who doesn't need it, and it's him," he said.
Santorum told reporters that Trump's event in a competing time slot with the GOP Debate is a double-edged sword for candidates in the undercard debate.
"If you get invited and you don't go, then you're not supporting veterans," Santorum said. "If you get invited and you do go, you're supporting Donald Trump."
Santorum, a former Pennsylvania senator, said he doesn't let the "Twitterverse" decide what he should do — he tries to do the right thing.
Plus, he didn't have any other plans.
"As I said before, I'm not busy tonight," Santorum said.
—
Follow the author of this story on Twitter and Facebook:
[facebook //www.facebook.com/plugins/like.php?href=