On the heels of receiving the least amount of speaking time in Thursday's GOP debate, Dr. Ben Carson's campaign wants to see several changes made to the debate process.
Carson's communications director, Larry Ross, told TheBlaze Friday evening that the campaign would like to see future debates geared more toward substance and less toward soundbites.
"Dr. Carson is a statesman, not a showman, who has opined that the debate format geared toward soundbites, rather than substance, is a flawed process that does not provide a true picture of a candidate's character and decision-making ability or insights into how he or she would lead," Ross said.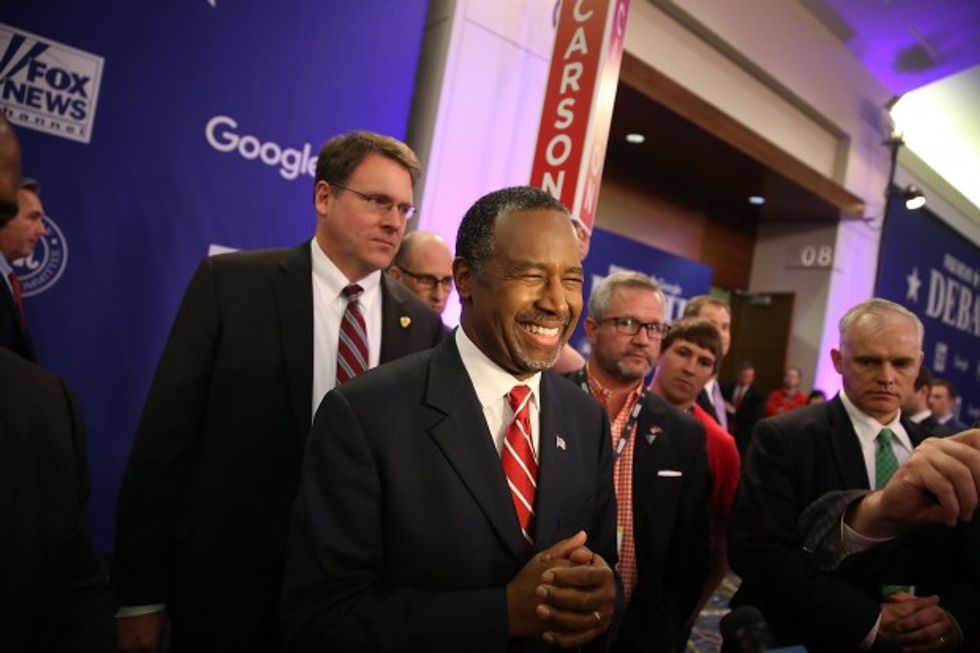 Ben Carson speaks with the media in the spin room after the Republican presidential debate sponsored by Fox News and Google at the Iowa Events Center Thursday. (Getty Images/Joe Raedle)
Ross went on to tell TheBlaze that the debates currently have a "coliseum mindset," meaning that the news networks hosting the debates seek to provide entertainment "rather than equity, pitting candidates against each other to defend previous statements rather than define strategies to address the real issues of concern to Americans."
However, Ross said that "stirring up strife and controversy" is "counterproductive" to the election process. In addition, he labeled it a "disservice" to voters who are still in the process of deciding which candidate they will support.
In an interview with Fox News' "Fox and Friends" Friday morning, Carson mentioned that he would like to see debate reform, suggesting only that a "time clock" be implemented. But Ross provided a rather detailed list of changes that the Carson campaign would like to see considered:
First, the campaign said they would like to see "more fair and equitable distribution of questions and among candidates." They would also like for the debates to be issue-oriented, rather than "open-ended."
Expanding on the idea of a time clock, Ross said the campaign would like for the candidates to have longer opportunities to speak, both when answering a moderator's question and for rebuttals. The campaign recommends at least 90 seconds, or longer, for each response.
The campaign also told TheBlaze that they would like to see a more "collegial format," such as a "sit-down roundtable." This would replace the lecterns that "force confrontation by separating the candidates and putting a barrier between them and the moderators."
Carson has been on the downslide in terms of support since November, potentially another reason the campaign would like a debate format shake-up. According to the RealClearPolitics national average of polls, Carson still ranks fourth among all GOP candidates, garnering an average of 8.3 percent in the polls.
—
Follow the author of this story on Twitter and Facebook:
[facebook //www.facebook.com/plugins/like.php?href=