MMA Fighter Tito Ortiz told Sports Radio 610 hosts Nick Wright and John Lopez on Friday that he endorsed Republican presidential candidate Donald Trump, saying that he believes Trump "can make America great again."
Ortiz, who participated in the show "Celebrity Apprentice" when Trump was still the host, shared that he wasn't always a Trump supporter but has come to believe he is the best candidate for the presidency.
Let's make our country great again! #Trump2016 https://t.co/dKq5xFPbEB

— Tito Ortiz (@titoortiz) January 20, 2016
"For a person to become a billionaire, to be flat broke bankrupt," Ortiz said, "to rebuild himself to be a billionaire and now to become almost the President of the United States, it's amazing. He's a hard worker. He can make America great again. That's my vote for him."
Ortiz went on to list additional reasons why he supports one of, if not the most, controversial candidates in the current election.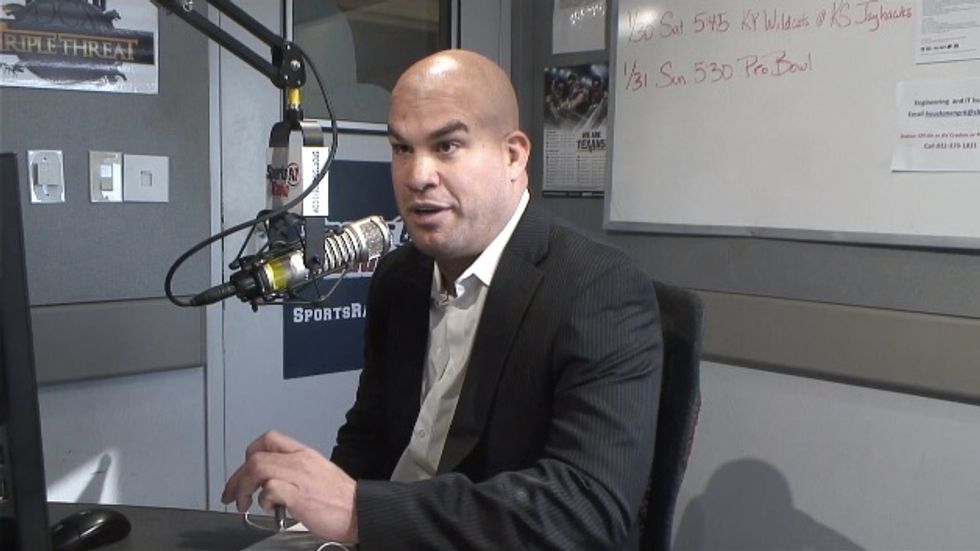 Image source: Sports Radio 610
"I'm a Trump guy," he shared. "I wasn't in the beginning, of course."
Ortiz, who is Mexican-American, mentioned Trump's comments about deporting "all the Mexicans out of the United States."
"Well, good luck on that one," he said. "They'll find a way to get back here anyways. But in the long run, I think he wants to bring money back to our country... being in the debt that we are... I think he has an opportunity to do that."
Lopez, who is also Mexican-American, mentioned Trump's proposed wall on the U.S./Mexico border, stating that as his reason for not personally supporting Trump.
"It's just not Mexicans that we have to worry about," Ortiz responded. "It's the Muslims, it's the radicals that come in that have the opportunity to come in from [Mexico] to our country and do the thing with terrorism that's hindering our country. We shouldn't be afraid to walk around and look over our shoulders and some guy has a bomb in his pocket or something stupid."
"I think it needs to be taken care of," he continued, "and the president we have now did not do that job. I think, in my opinion, that Trump can help a lot better."
Watch:
Sports Radio 610)