The campaign of Republican presidential hopeful Carly Fiorina has responded to calls that the candidate should be indicted for her support of the Center for Medical Progress.
The Center for Medical Progress released a series of undercover videos that raised allegations that Planned Parenthood, the nation's largest abortion provider, is selling aborted fetal body parts to researchers for profit, a felony in the United States.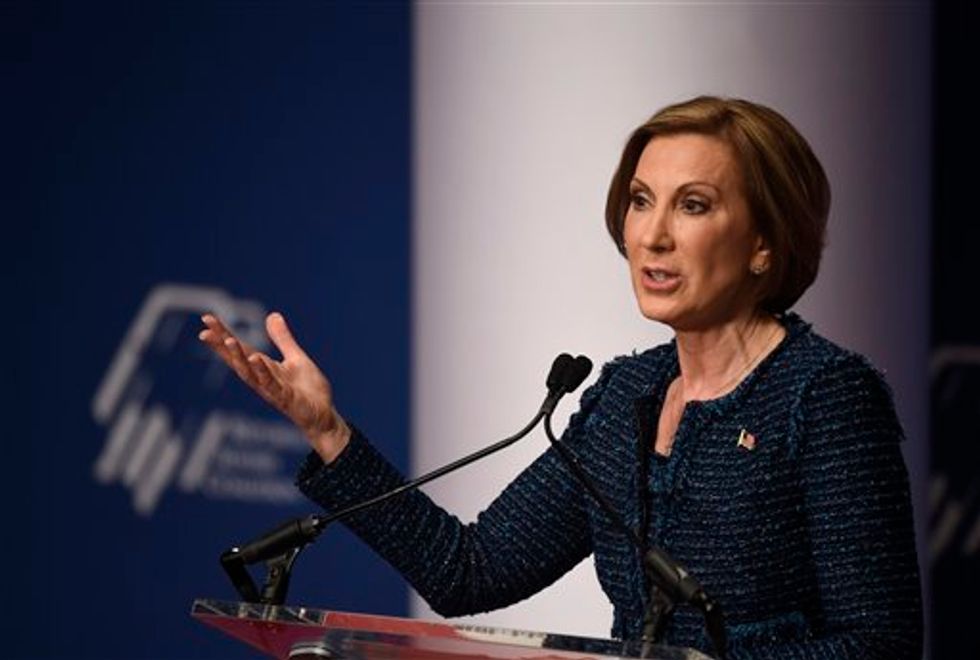 Republican presidential candidate and former businesswoman Carly Fiorina speaks at the Republican Jewish Coalition Presidential Forum in Washington Dec. 3. (AP/Susan Walsh)
Fiorina has called for Planned Parenthood to be defunded.
A Texas grand jury indicted two people connected to the Center for Medical Progress on Monday but no one connected to Planned Parenthood.
Some Planned Parenthood supporters have implied that Fiorina should also be indicted due to her vocal support for the Center for Medical Progress' efforts.
March Stech, communications director for the pro-abortion EMILY's List, tweeted:
Punishment for manipulating info about Planned Parenthood is indictment. What about for the GOP candidates continuing this false narrative?

— Marcy Stech (@Marcy Stech) 1453826896.0
Bob Krause, a Democratic candidate for the Senate in 2016, echoed the sentiment:
Wonder if it's possible to indict #CarlyFiorina for fraudulating a fraudulated video that used fraudulent govt documents? #IaCaucus #PP

— Bob Krause (@Bob Krause) 1453819257.0
"It tells you everything you need to know about the extreme position of the Democrats on life," Anna Epstein, Fiorina's press secretary, told the pro-life LifeSiteNews. "And how scared they are of a candidate like Carly Fiorina who exposes their lies."
Asked about the indictments during the "undercard" Republican Debate on Fox News Thursday evening, Fiorina said, "The facts of Planned Parenthood have not changed."
"Hillary Clinton hasn't been indicted, either, so that tells us a lot about our justice system in this country," Fiorina said.
"I will not be rendered silent on this issue," Fiorina added.
"The reality is, most Americans find this practice horrific," she continued. "Most Americans find horrific that Hillary Clinton's position on this is it's not a life until it's born."
Fiorina added that as president, her budget would not include "one dime for Planned Parenthood."
"Although there would be a lot of money for women's health, and we will finally pass the pain capable unborn child protection act," she added. "I will always stand for life and religious liberty because this is about the character of our nation."
(H/T: LifeSiteNews)