After learning that Republican presidential contender Ben Carson was not suspending his campaign but instead only traveling back to his Florida home for a couple days to do laundry, Glenn Beck offered the retired neurosurgeon some harsh criticism.
"That's just an unreasonable statement," Beck said of Carson's excuse for flying home. "If that is really what he says, then that shows this man is not taking this campaign seriously."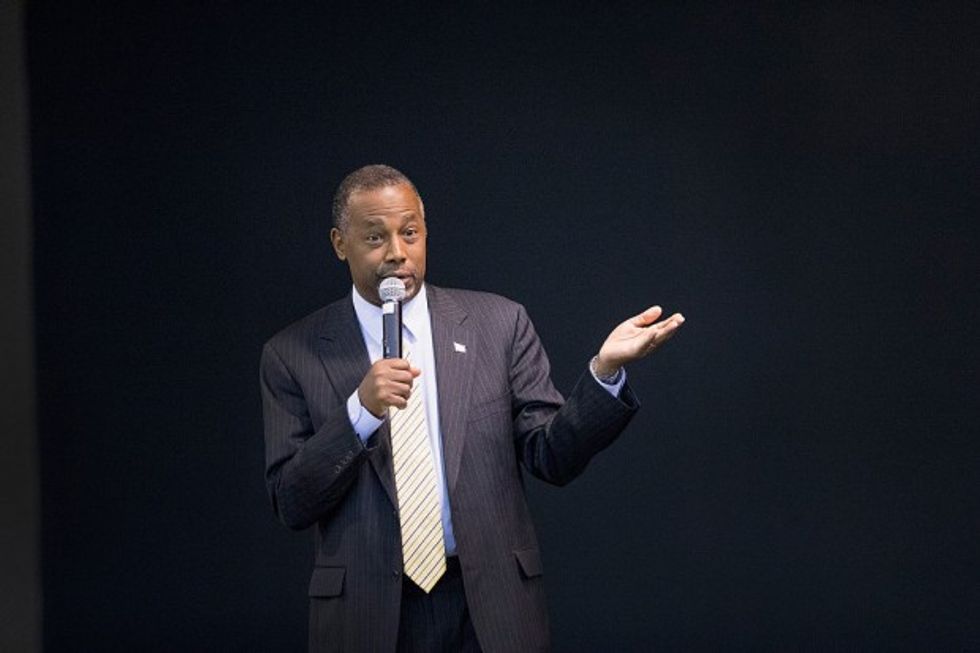 Republican presidential candidate Ben Carson speaks to guests at a barbecue Nov. 22. (Getty Images/Scott Olson)
Shortly after CNN reported Carson's itinerary Monday evening, Republican presidential rival Texas Sen. Ted Cruz's campaign shared the information with its staff and caucus-goers, suggesting Carson could be dropping out of the race — a move the retired neurosurgeon characterized as "dirty tricks."
Cruz has since apologized for the confusion, though Beck, who has endorsed the Texas lawmaker, said it is "totally believable" that the Cruz camp thought Carson was dropping out.
Beck went on to say that Carson could have hired a department store to make or bring him suits rather than fly home.
"You're a presidential candidate — let me tell you something: you're Ben Carson," Beck said. "[T]he campaign could buy the suits. You could hire somebody to come. You could get somebody to make a suit for you in Iowa."
"You can call them in New York and say, 'I'm Ben Carson. I need somebody to come and bring a tailor and bring some suits to me.' And that's easy to do," he added.
The radio show host said Carson's campaign should have said he had "personal issues" to deal with, but would be back on the campaign trail in a couple days.
"Not, 'I'm going home because I have to get a fresh pair of clothes. And then I'm going to a prayer breakfast in Washington. We'll check back with you,'" Beck said. "That's ridiculous."
Complimentary Clip from TheBlaze TV The full episode of The Glenn Beck Program, along with many other live-streaming shows and thousands of hours of on-demand content, is available on just about any digital device. Click here to watch every Glenn Beck episode from the past 30 days for just $1!
—
Follow the author of this story on Twitter: