One or possibly two more Hamas military tunnels collapsed Wednesday evening in Gaza just hours after the Islamist group held a funeral for two of its fighters who were buried alive inside an underground passageway the day before.
Asked if Israel secretly had had a hand in a string of tunnel collapses – which last week killed seven Hamas militants – Israel Defense Forces Maj. Gen. Yoav Mordechai gave the elusive answer of  "God knows."
Mordechai, who serves as the IDF's Coordinator of Government Activities in the Territories, told the independent Palestinian news agency Ma'an that Palestinians would be wise to stay away from tunnels given the recent collapses.
"I would suggest the residents of the Gaza Strip not to occupy themselves with the tunnels and to get away from them, especially after seeing the results in recent days," Mordechai said.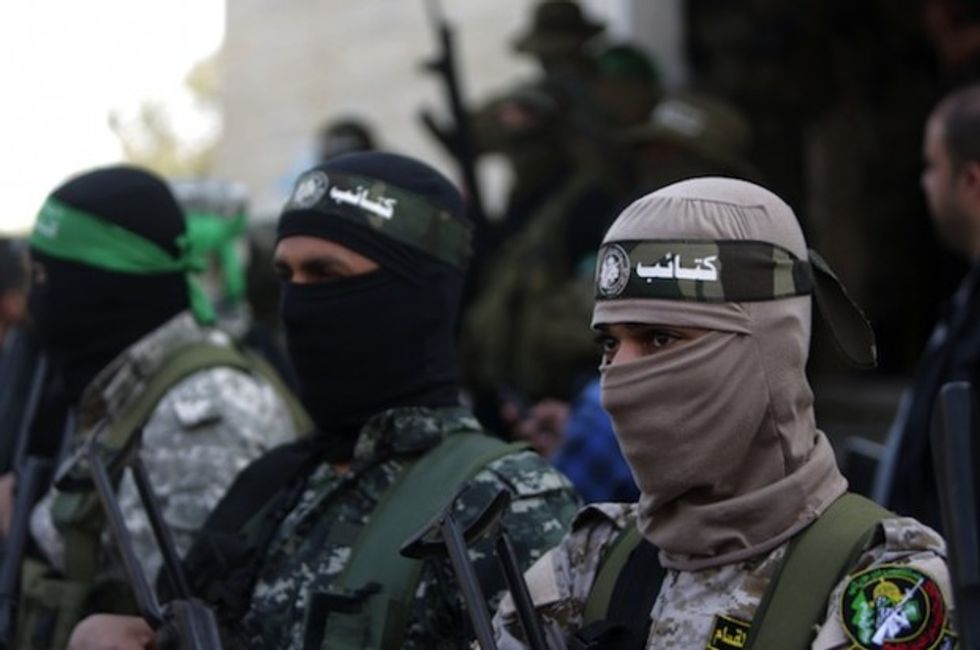 Palestinian members of the Izzedine Al-Qassam Brigades, the armed wing of the Hamas movement, mourn during the funeral of fellow militant Ahmed al-Zahar in the village of Al-Moghraga near the Nuseirat refugee camp in the central Gaza Strip on February 3, 2016. The collapse of a tunnel in the Gaza Strip has killed two militants from Hamas's armed wing, officials said Wednesday, as concern grows in Israel over the rebuilding of tunnels that can be used for attacks. (Mahmud Hams/AFP/Getty Images)
Hamas has attributed the tunnel collapses to recent heavy rainfall.
Mordechai accused the Islamist movement of neglecting its population, investing millions in digging "tunnels of death" while evading providing basic services to its citizens.
COGAT is the branch of the IDF that coordinates relations between the Palestinian Authority and Israeli military and government offices.
The Times of Israel reported late Wednesday that one Hamas tunnel had collapsed, with unconfirmed reports of a second collapse the same day. The earlier tunnel cave-ins occurred Tuesday, killing two — including a Hamas field commander – and last week, killing seven.
Hamas blocked off the area around Wednesday night's collapse and instructed Gaza radio stations not to discuss the incident, the Jerusalem Post reported.
Hamas has created dozens of tunnels to smuggle goods and weapons into Gaza as well as to plan attacks on communities in southern Israel.
Residents of Israeli towns bordering Gaza in recent days have reported hearing banging noises that they suspect come from Hamas tunnel-diggers working through the night.
Gaza residents told the Israeli website NRG they believe there is a virtual underground city of Hamas tunnels under their feet, a suspicion nobody dares discuss for fear of trouble with the Islamist group that rules Gaza.
Senior Hamas leader Ismail Haniyeh on Friday warned that Hamas was working apace to build tunnels and test rockets for a new round of fighting with Israel.