MANCHESTER, N.H. – During remarks at a New Hampshire town hall Thursday, Republican presidential candidate Sen. Marco Rubio (Fla.) told a crowd of Granite State voters that he is both a candidate who can win the general election and a candidate who they don't have to compromise their principles to support.
According to a WHDH/UMass Lowell poll released Thursday, Rubio has surged to second place in New Hampshire following the Iowa caucus. Rubio, who sits at 15 percent support in the poll, trails Donald Trump by 21 points. Texas Sen. Ted Cruz is close behind at 14 percent.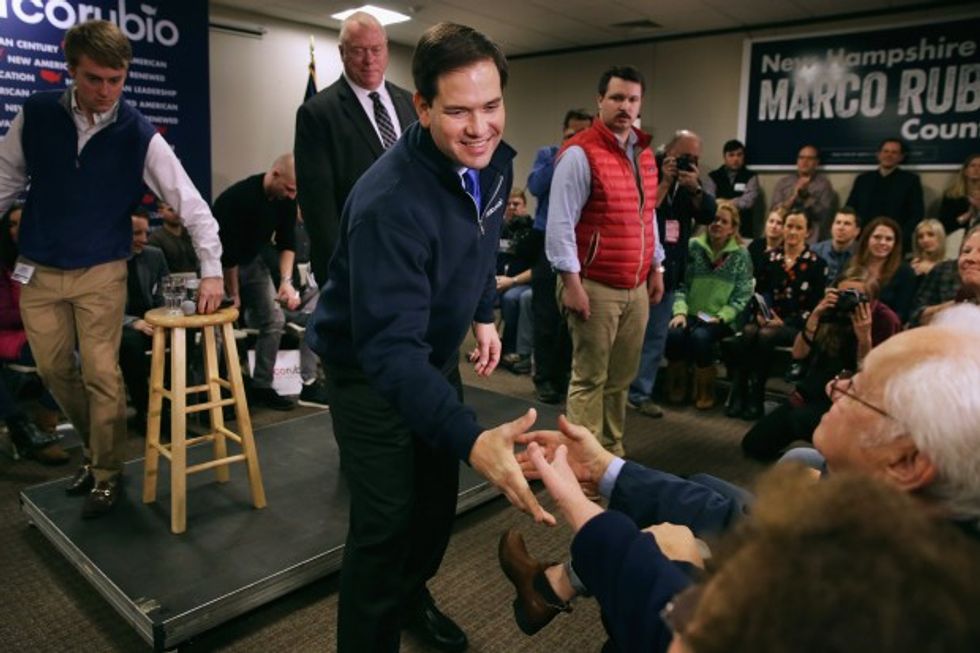 Republican presidential candidate Sen. Marco Rubio (Fla.) greets people at the conclusion of a campaign town hall event at the Timberland company headquarters Thursday in Stratham, New Hampshire. (Chip Somodevilla/Getty Images)
During the event, Rubio told the audience that he would take the oath of office to "protect, defend and uphold" the Constitution, and "I will mean it, unlike our current president."
"The Constitution is not a suggestion," he said. "The Constitution is the document of limitation that ensures that we have a government that protects our liberties not decides them."
Rubio added that "Washington has never been more out of touch than it is now," which is why he "ignored the establishment" when they told him to "wait in line" and that it wasn't his "turn" to run for president. "I didn't know there was a line to run for president," he said.
The senator reiterated his often-used remark that Hillary Clinton doesn't want to run against him, "but I can't wait to run against her."
While Rubio was discussing the possibility of a "President Hillary Clinton" or a "President Bernie Sanders," the crowd booed. "That's how I feel too," Rubio joked.
While criticizing Vermont Sen. Bernie Sanders for being a self-described socialist, the candidate urged the American people to reject the philosophy. "There's like 50 socialist countries," he said. "If you want to live in a socialist country, move. I want to live in America."
Without naming any of his Republican rivals, Rubio cast himself as the best candidate to defeat either Democratic candidate after a "spirited primary."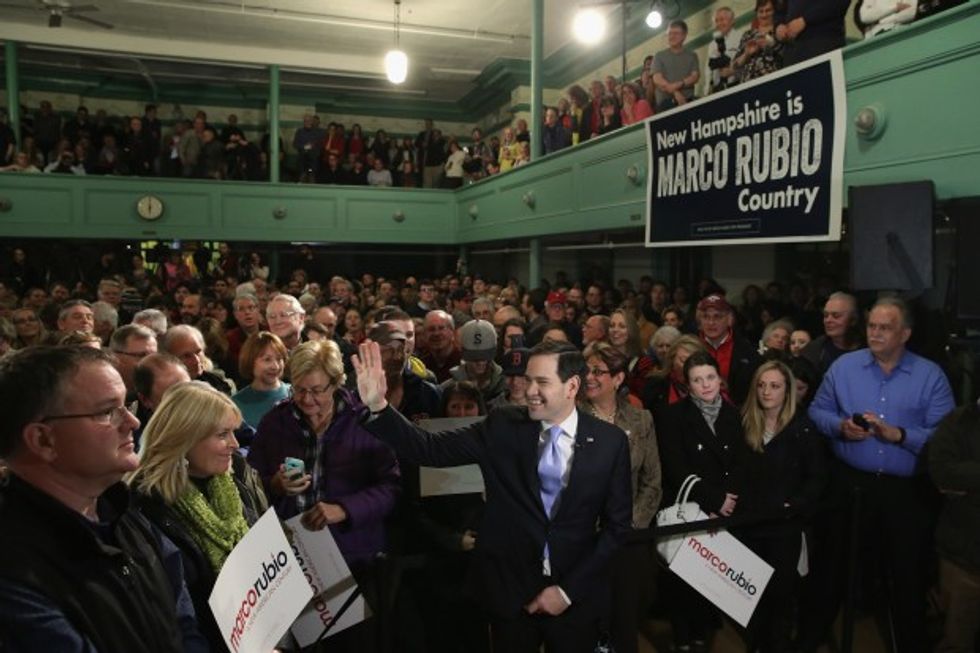 Republican presidential candidate Sen. Marco Rubio (Fla.) arrives at a campaign rally in the Exeter Town Hall Tuesday in Exeter, New Hampshire. (Chip Somodevilla/Getty Images)
"I give this party the best chance to win, and we don't have to compromise our principles," Rubio said. "I will unite this party fast, and faster than anybody running for president can. We can't win if we're divided. We can't win if we're attacking each other well into November. ... We must be able to bring this party together. We must be able to bring the conservative movement together. "
He said that he will not only "unite" the conservative movement but "grow" it.
While taking questions from reporters after the event, Rubio addressed recent accusations that he "hasn't accomplished anything" during his time in the Senate, citing his pride in his work toward "VA accountability," sanctions on Hezbollah and the Girls Count Act, which fights human trafficking.
Rubio was also asked about recent attacks from Republican rivals that he is too pro-life.
"I'm proudly pro-life and I won't apologize for that," Rubio said, adding that Clinton is an "extremist" on abortion. "I can't wait for the general election to expose how extreme the Democrats are on this issue."
Following his stronger-than-expected third-place showing in the Iowa Republican caucus Monday, Rubio has picked up several endorsements from current and former lawmakers, including endorsements from co-founder of the House Freedom Caucus Rep. Matt Salmon (R-Ariz.), Sen. Pat Toomey (R-Pa.) and former presidential candidate Sen. Rick Santorum (R-Pa.), who suspended his campaign Wednesday.
—
Follow Kate Scanlon (@kgscanlon) on Twitter