A 30-second video of a Maryland high school student going on a racist rant against the Black Lives Matter movement has now prompted walkouts this week at two Howard County schools, WJZ-TV reported.
Hammond High School students staged the second walkout Thursday during their 30-minute lunch break to call attention to the Black Lives Matter movement and voice their objections to the video posted by a Mount Hebron High School student.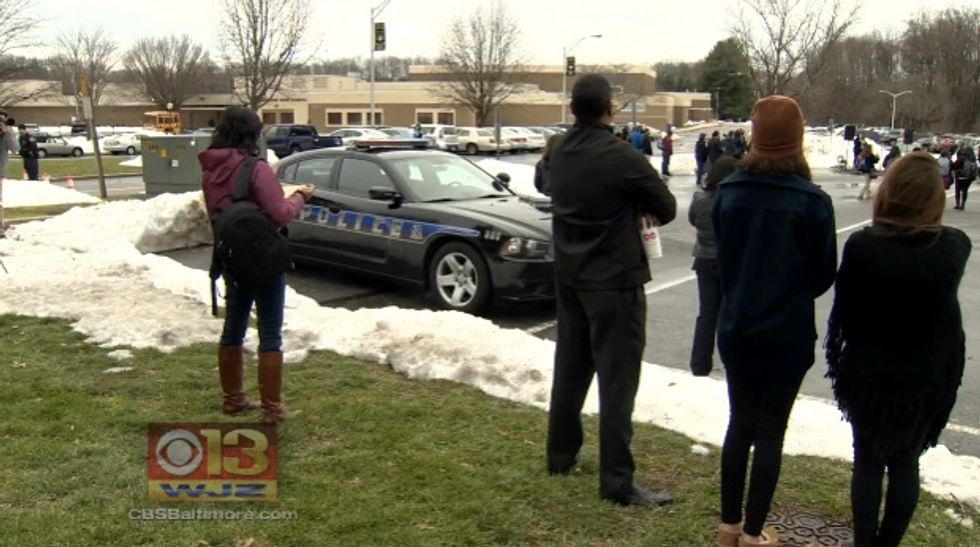 Image source: WJZ-TV
The viral clip features a white male student calling blacks "inferior" and slamming Abraham Lincoln. Mount Hebron students staged the first walkout Tuesday to draw attention to their classmate's unacceptable behavior and to let administrators know that such hate will not be ignored.
"It wasn't something I was surprised by. I was surprised it was actually recorded and we actually have proof of it now," Mount Hebron student Milan Black said of Tuesday's protest.
"It happens every day, but that was the one time someone got caught saying something," Khaliq Canada, also a Mount Hebron student, said.
Thursday's protest at Hammond High was staged in an effort to show solidarity with the neighboring school.
"It is 2016, people, why are we still dealing with issues of racism?" one student protester said.
Parents and community groups also attended the rally.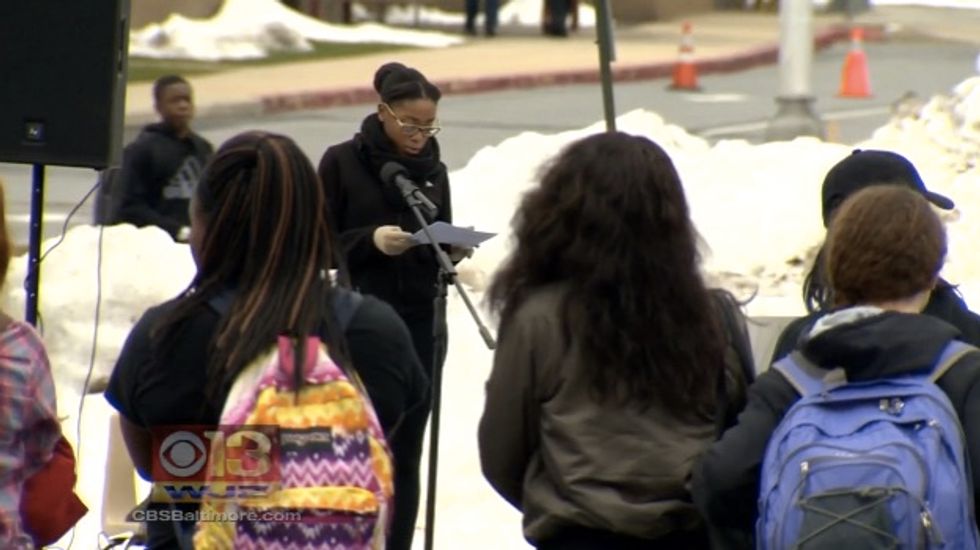 Image source: WJZ-TV

"We hope this will shed some light," Carmen Moultrie, a parent, said.
School leaders were informed in advance that the rally would take place. They even set up a place where students could congregate and speak out.
"It's nice to see our community coming together," Black said.
After the first walkout at Mount Hebron, WJZ reported that a town hall meeting was held at an area church to start a conversation about racism and diversity.
School leaders present at the rally said they hope the protests can become a civics lesson for students that will prompt further conversation.
"Our goal is to not make this a one-time event. We're going to be working with the student organizers to create small group conversations at lunch later this month," Hammond High Principal Marcy Leonard said.
Howard County school leaders are investigating the racist video and have identified four students involved in creating it.
Mount Hebron school officials told WJZ Wednesday that four students were disciplined in connection to the video.
Details surrounding their punishments remain unknown at this time.
(H/T: WJZ-TV)