CONCORD, N.H. – Vermont Sen. Bernie Sanders thanked supporters Tuesday for helping him win the New Hampshire primary, striking the same populist tone that's defined his stump speeches during the course of his campaign.
"Together, we have sent a message that will echo from Wall Street to Washington, from Maine to California that the government of this great nation belongs to all of the people and not just a handful of wealthy campaign contributors and their super PACs," Sanders said, smiling broadly throughout his speech at Concord High School.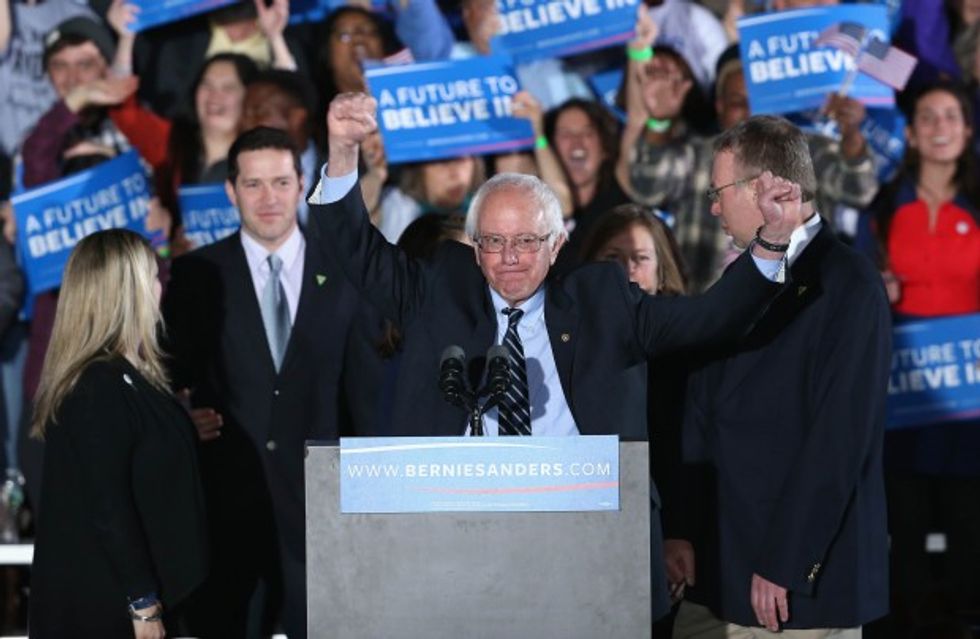 CONCORD, NH - FEBRUARY 09: Democratic presidential candidate Bernie Sanders greets supporters after winning the New Hampshire Democratic Primary February 9, 2016 in Concord, New Hampshire. (Win McNamee/Getty Images) 
Sanders, a self-described Democratic socialist, said his victory in New Hampshire sends a sharp message to the "billionaire class" as well as rival Hillary Clinton — who was seen as the inevitable Democratic nominee just months ago.
"Nine months ago, we began our campaign here in the Granite State," Sanders said. "We had no campaign organization and we had no money. And we were taking on the most powerful political organization in the United States of America, a team that defeated Barack Obama here in the Democratic primary in 2008. And tonight, through a record-breaking voter turnout, we won because we harnessed the energy and the excitement that the Democratic Party will need to succeed in November."
Sanders' victory in the Granite State follows a narrow loss in the Iowa caucuses last week.
"Tonight we served notice to the political and economic establishment of this country that the American people will not continue to accept a corrupt campaign finance system that is undermining American democracy and a rigged economy in which ordinary Americans work longer hours for lower wages while almost all new income and wealth goes to the top one percent," Sanders said.
"The American people want real change," he added.
Sanders encouraged supporters to visit his website and contribute to his campaign – which he characterized as his version of a fundraiser.
"I'm going to hold a fundraiser right here, right now, across America," he said.
According to Sanders' campaign, the senator passed the time waiting for New Hampshire returns by playing basketball with his children and grandchildren.