Ted Cruz has slammed Republican rival Donald Trump for supporting eminent domain – but it appears the Texas senator was once in favor of it, too.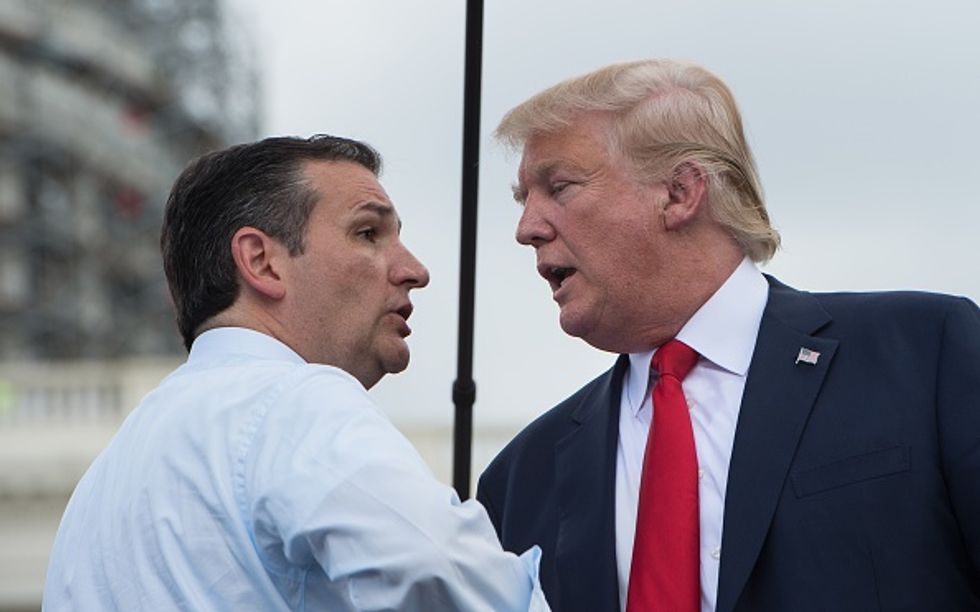 Sen. Ted Cruz and businessman Donald Trump (Image source: NICHOLAS KAMM/AFP/Getty Images)
In his run for the U.S. Senate in July 2012, Cruz was asked during a debate about his stance on eminent domain when it comes to securing the U.S.-Mexico border.
"Let me ask you about a constitutional issue: liberty," the moderator asked Cruz. "What about the liberty of the hundreds, if not thousands, of private landowners in Texas whose land would be seized by the government for what even some in your own party say would be an ineffective project? What about their liberty?"
Cruz responded by saying that he had been a longtime advocate for liberty, but added one stipulation.
"The Constitution also provides that property can be taken with due process of law and just compensation, and with respect to securing the borders, it is a national security issue," Cruz said.
The Cruz campaign released an ad on Tuesday attacking Trump for his support of eminent domain. The ad alluded to allegations that the New York City businessman once took an elderly woman's house to build a parking lot for his limousines.
Trump has denied taking the woman's property, while defending eminent domain use as "an absolute necessity."
Only the government could use eminent domain until 2005, when the Supreme Court ruled 5-4 that the provision also applies to cases where the acquisition of one's property would promote private economic development.
"[T]he Constitution allows the government to take property through eminent domain solely for the purpose of 'economic development,' which it found to constitute a 'public use' as required by the Fifth Amendment," 2006 Harvard Law School candidate Eric Rutkow wrote in the Harvard Law Review.
"The decision missed an opportunity to establish a heightened-review test that might have mitigated abuses historically associated with such condemnations," Rutkow added. "Instead, it used precedent to shield a determination that social benefits from such takings outweigh threats to security of property as well as potentially disproportionate socioeconomic impacts."
(H/T: Gateway Pundit)
–