Republican front-runner Donald Trump called a last-minute press conference Monday and threatened to sue Texas Sen. Ted Cruz if Cruz doesn't apologize for "lying" about Trump's record.
The businessman and 2016 White House hopeful said in a rambling 45-minute press conference that he has only a few days to make up ground in South Carolina, so he decided to go on the offensive.
"We will bring a lawsuit if he doesn't straighten his act out," Trump said. "He is a lying guy."
Trump said he already has hired a "very good lawyer" to head up the lawsuit against the Texas senator, alleging that Cruz can't serve as president due to his birth in Canada to an American mother. The question of whether Cruz's Canadian birth counts as "natural-born" citizenship, the requirement for the presidency in the U.S. Constitution, hasn't yet been determined definitively by the courts.
Trump said his lawsuit would just speed up an inevitable process.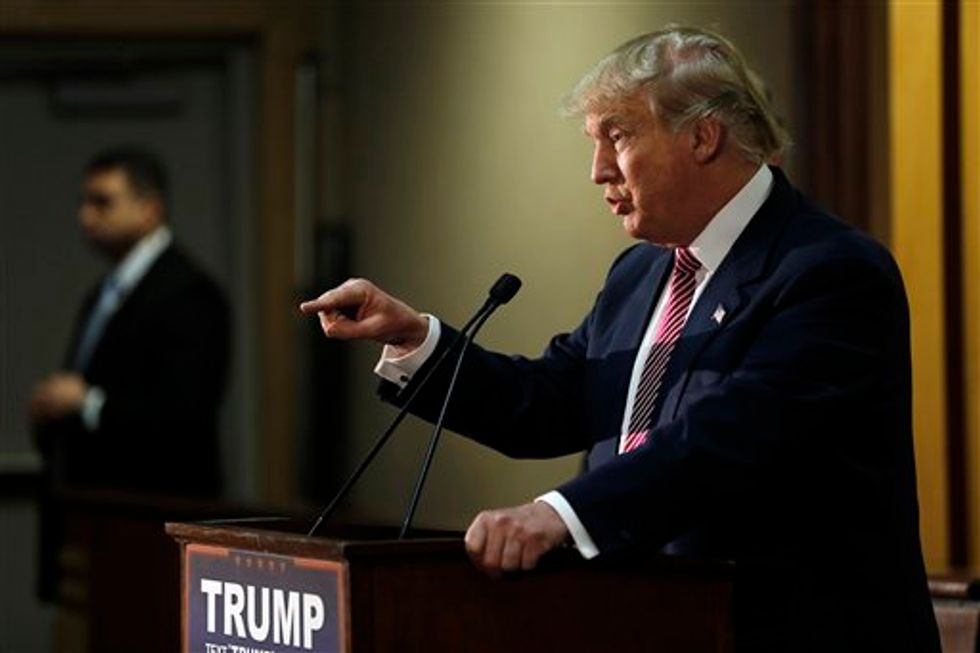 Donald Trump speaks at a news conference Monday in Hanahan, South Carolina. (AP/Matt Rourke)
"I'm actually doing him a favor by filing it, because the Democrats are going to file it anyway [if Cruz is the nominee]," Trump said. "So in a sense I'm doing him a favor."
Trump also called into question Cruz's Christian faith, saying that reporters should look into Cruz's claims of Christianity.
"Ted Cruz is a totally unstable individual. He is the single biggest liar I've ever come across, in politics or otherwise, and I have seen some of the best of them," Trump said in a statement that was released at the same time as the press conference. "His statements are totally untrue and completely outrageous. It is hard to believe a person who proclaims to be a Christian could be so dishonest and lie so much."
Trump laid out a litany of claims that he said Cruz lied about: That Trump would appoint a liberal judge, is pro-choice, is in favor of Obamacare and is against Second Amendment gun rights. He also pointed to Cruz's campaign spreading word that neurosurgeon Ben Carson was planning not to go straight on to New Hampshire after Iowa and a "fraudulent" voter violation form sent to Iowa voters as examples of Cruz's dishonesty.
Trump added that Iowa Republican officials should "overturn that election" because the way that Cruz came out on top in the voting in the Hawkeye State was "a fraud."
"If Ted is going to continue to lie with such desperation, I have no choice but to fight back," he said in the statement. "One of the ways I can fight back is to bring a lawsuit against him relative to the fact that he was born in Canada and therefore cannot be President. If he doesn't take down his false ads and retract his lies, I will do so immediately. Additionally, the RNC should intervene, and if they don't, they are in default of their pledge to me."
Trump also re-stated his criticisms of former Florida GOP Gov. Jeb Bush, arguing that Bush was running away from his last name and the record of his brother, former President George W. Bush, until he needed his support in South Carolina.
When asked if the former President Bush could be credited with keeping the U.S. safe after the terror attacks of Sept. 11, 2001, Trump compared 9/11 happening on Bush's watch to the other team scoring "19 runs in the first inning," but "after that we played well."
Trump also called Florida Republican Sen. Marco Rubio a "choke artist," adding: "We can't have that as president."
Cruz responded on Twitter as the press conference wrapped up and did not appear concerned about the possibility of a lawsuit.
You cannot simply scream "liar" when someone points out your actual positions: https://t.co/DI5HnSln62

— Ted Cruz (@Ted Cruz) 1455566089.0
—
Follow the author of this story on Twitter and Facebook:
[facebook //www.facebook.com/plugins/like.php?href=