A traffic violation that began in Rockwall, Texas, and quickly morphed into an intense car chase ended near Waco when the suspect crashed his car after officers threw down spike strips and shot his tires Thursday evening.
Jonathan Davis, 26, of Tennessee, flew to speeds of over 100 mph as he attempted to outrun the police in his silver four-door Mazda after being initially pulled over for a traffic violation east of Dallas, according to Mediaite. During the ensuing chase, Davis zoomed along Interstate 35, drive the wrong way on some roads, drove on the highway's shoulder and smashed through a fence in his efforts to evade the police. The chase ended only after officers set spike strips on the highway and shot out his remaining tires and Davis crashed into a guardrail outside Waco.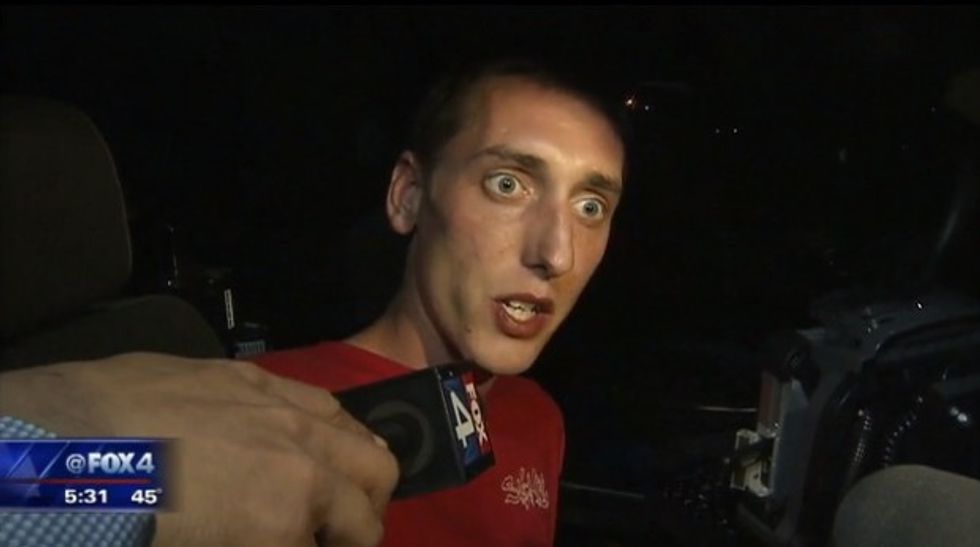 Jonathan Davis (Image source: KDFW-TV)
"Two tires were spiked, so he was running on two flats and after he spun out, hit the guardrail, he was surrounded immediately. He got out of the vehicle and was taken down, placed in handcuffs and taken into custody." McLennan County Sheriff Parnell McNamara told KDFW-TV.
Immediately after his arrest, KDFW caught a bizarre interview with Davis during which he explained why the police were "trying to take [his] freedom."
"I'm just done with it. I'm done with people trying to take my freedom because I smoke weed. You drink, it's 10 times worse," Davis said in the interview. "Yeah, I have weed on me. I always have weed on me."
Davis claimed he was new to the area and had been trying to get to San Antonio, although he didn't "know what the f*** roads [he] was on" until the police "shot [his] car."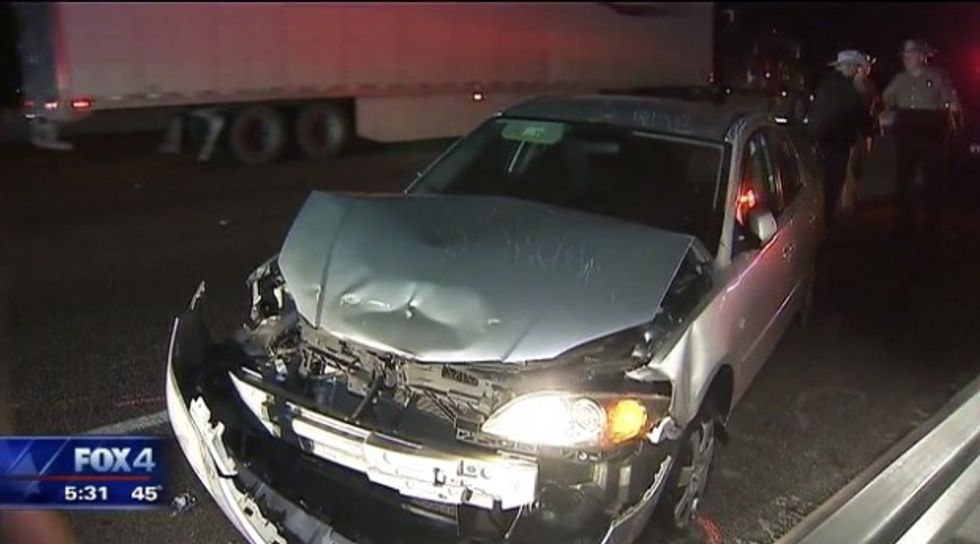 Image source: KDFW-TV
"I didn't know they was gonna shoot at me. ... I ain't even got no gun," Davis said during his interview.
He also complained to the reporter that he was annoyed and tired of being arrested for weed possession because now he could no longer get a regular job.
"Police pulled me over I guess because I was on my iPhone or something. I don't know what happened. I am new to this state. I just moved here two months ago. I didn't really pay attention to 'don't text and drive' or whatever. So I did it, and he pulled me over." Davis theorized in his interview, adding, "I don't like police."
Davis also admitted that he loved his "thrilling" car chase, saying that he was an "adrenaline junkie." When asked what he was thinking during the chase, Davis said, "I was Snapchatting, just be real. Snapchatting and Instagramming."
—
Follow Kathryn Blackhurst (@kablackhurst) on Twitter