After being named "Donkey of the Day" by radio personality Charlamagne Tha God, Blaze TV host Tomi Lahren invited the popular radio show host on her show, and things got heated pretty quickly.
Lahren first received the "Donkey of the Day" recognition from Charlamagne Tha God for her adamant disagreement with Beyoncé's Super Bowl performance, in which she channeled the controversial Black Panthers and addressed police brutality.
"If you want to talk about protecting black communities, you can't just select the things that you want to talk about — you have to be mindful of all of it," Lahren remarked at the start of the conversation.
Lahren went on to tell the radio personality that there "will still be problems in black communities if white officers stopped shooting any black person."
But Charlemagne Tha God did not seem to believe that was a valid point.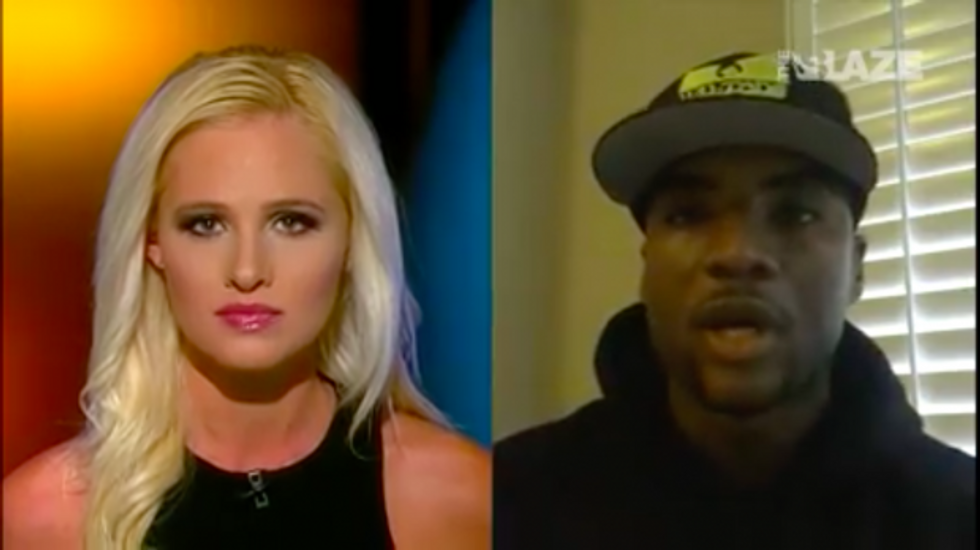 Image source: TheBlaze TV
"OK, if you go to an HIV/AIDS rally, right, and the rally is about HIV/AIDS, Tomi, do you stand up and say, 'What about cancer?'" he asked.
The Blaze TV host went on to tell Charlemagne The God that "there are better leaders" other than the Black Panthers for Beyoncé to channel and Black Lives Matter activists to model after.
"When you go to the Super Bowl and you're celebrating a day when everyone to come together, you don't stand up and salute a terrorist organization like the Black Panthers," Lahren said. "I would never support a group that was a White Supremacist group or any other group — I don't condone that."
According to Charlamagne Tha God, the Black Panthers and Malcom X just "wanted to see black people liberated."
"You may not agree with their methods, but, guess what, we don't always agree with all the methods that America uses at times," he continued.
Charlamagne Tha God later said he does not believe the Black Panthers were a terrorist group, a point with which Lahren strongly disagreed.
"They committed acts of terror. They were a group that responded with violence, to violence, with violence," Lahren said. "I don't believe that's the way, Martin Luther King didn't believe that was the way."
The Blaze TV personality then went after Charlamagne Tha God for referencing "hands up, don't shoot," a narrative that has since been proven false. However, the radio host insisted the police were in the wrong regarding Michael Brown's death in 2014.
Ultimately, Charlamagne Tha God asked Lahren, "Why are you trying to deflect from what Beyoncé was trying to bring attention to, which is police brutality?"
He went on to say the singer's performance was not anti-police, but anti-police brutality. Lahren agreed that there is some true cases of police brutality, but believes the Black Lives Matter movement has "changed."
"I'm saying it's a movement, I'm not saying it's a few individuals. Not every individual in the Black Lives Matter movement is wrong," Lahren said.
"There are several who have great intentions, but the movement has changed. It has become something that has been a method of intimidation, and it's lead to de-policing, and you and I can disagree about this all day long," she concluded.
Watch the exchange:
—
Follow the author of this story on Twitter: