Glenn Beck, who has been in South Carolina campaigning for Republican presidential hopeful Ted Cruz this week, called in to his eponymous radio program Tuesday to talk about the death of Supreme Court Justice Antonin Scalia. What he said garnered a strong reaction from the media, which he is now calling "outrageous."
Beck's radio show co-host Pat Gray could not wrap his mind around why God would allow Scalia to have passed away in a moment when the U.S. is so divided politically. Beck, hoping to provide an answer, called into The Glenn Beck Radio Program from the road to explain his view.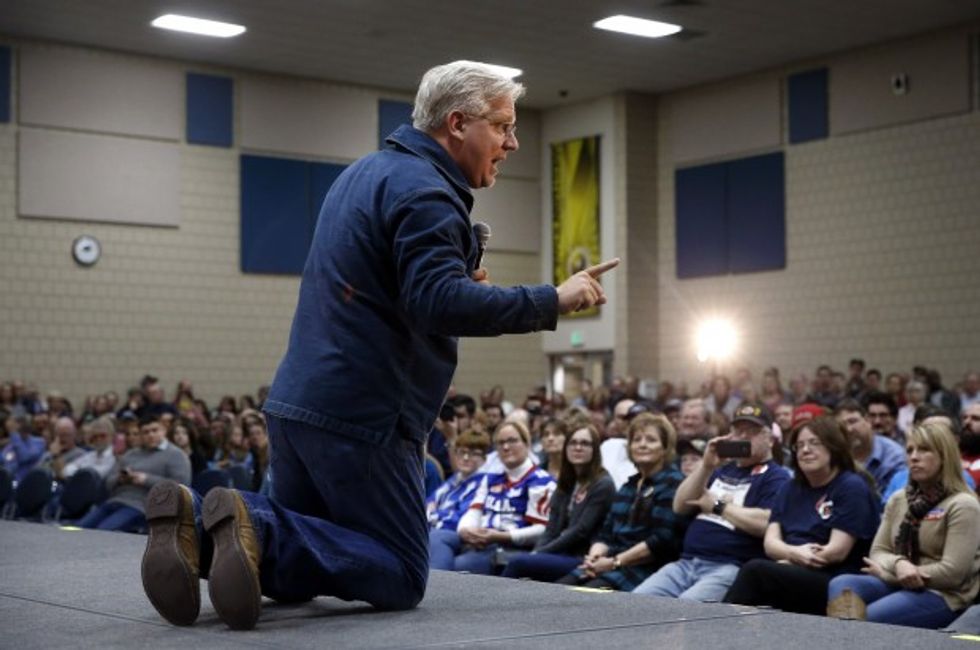 Radio and television personality Glenn Beck speaks before introducing Republican presidential candidate, Sen. Ted Cruz, R-Texas, at a campaign event at Western Iowa Tech Community College in Sioux City, Iowa, Saturday, Jan. 30, 2016. (AP Photo/Patrick Semansky)
"You're welcome. I just woke the American people up. I took them out of the game show moment, woke enough of them up to say, 'Look at how close your liberty is to being lost,'" Beck said, trying to articulate what he believes would be God's point of view. "You replace one guy and you now have 5-4 decisions in the other direction. And just with this one guy, you've lost your liberty."
Beck went on to say that the Constitution is "hanging by a thread," adding that, with Scalia's death, "that thread has just been cut." The radio host said that the only way to "survive" is by appointing a "true constitutionalist."
Shortly after his radio show ended, several media outlets — including Mediaite, Raw Story and CNN — reported that Beck said "God killed Scalia" — a claim the radio show host pushed back against strongly late Wednesday night.
"Apparently the [mainstream media] is reporting that I said 'God killed Scalia to help Ted Cruz.' Outrageous," Beck wrote in a Facebook note. "What I did say is 'perhaps God allowed Scalia to die at this time to wake America up to how close we are to the loss of our freedom.'"
Beck went on to write that he believes in "divine providence," something he says Americans have historically endorsed, which he uses as the linchpin for his argument that God might have "allowed Scalia to die."
"Are we awake to our sorry state? I am not sure. If the freedom that we are about to lose belongs to God for future generations, it would only make sense that He would try to wake us. No?," Beck wrote.
The conservative firebrand added that God "gives us free choice" and wrote that he is not sure who God wants to be elected president.
"What path He wants America to take to best preserve His rights and roles for us, I do not know," he wrote. "The event is in the hand of God."
"No matter how the press wants to twist my words or meaning, I stand by we need to be awakened," Beck concluded.
—
Follow the author of this story on Twitter: