Donald Trump argued tonight that Pope Francis's comments about his stance on immigration were "misinterpreted" and based on incomplete information.
Pope Francis on Thursday was asked by reporters about Trump's stance on building a wall along the Southern border. The pope responded that a person who thinks about "building walls" and not bridges "is not Christian."
Trump said earlier today that the pope's comments were "disgraceful" — and the Republican 2016 frontrunner didn't back down much in Thursday night's town hall in South Carolina.
Trump pointed out to CNN's Anderson Cooper that the pope "has got an awfully big wall at the Vatican."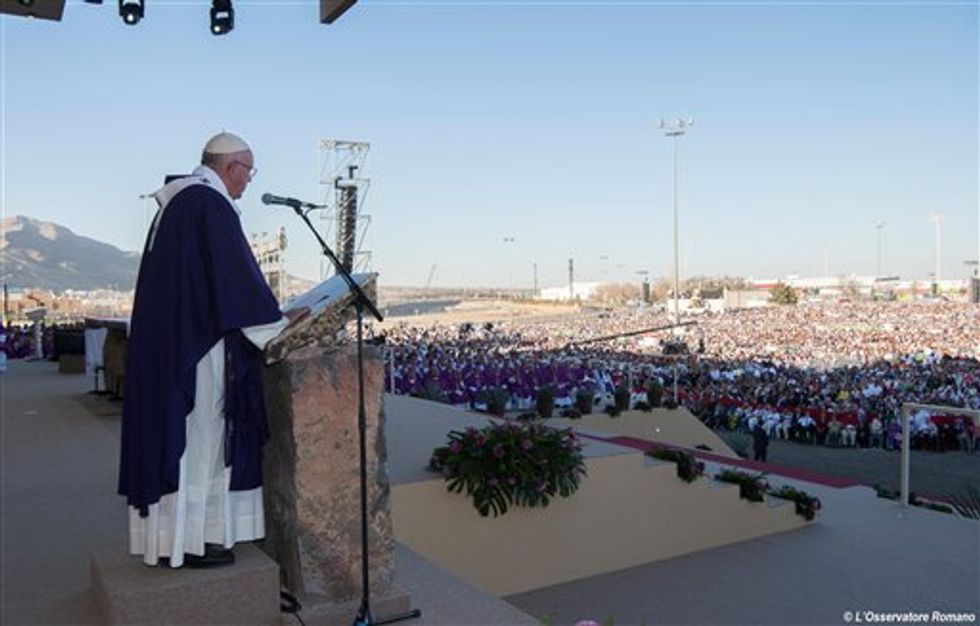 Pope Francis speaks during a mass he celebrated in Ciudad Juarez, Mexico on Wednesday. (L' Osservatore Romano/AP)
Trump added that the journalist asking the question misled the pope by characterizing his stance on immigration inaccurately. He also argued that Francis, who had just spent five days in Mexico, had only heard "one side" of the immigration debate.
"I also think he was given false information," Trump said. "If he heard our side" he would have come to a different conclusion, he added.
He went on to compliment the pope, saying that he's "very different," has a lot of "energy" and is "doing a very good job" in the role. When prompted by Cooper, Trump added that he'd be happy to meet with the pope any time to fill him in on the specific details of his immigration plan.
—
Follow the author of this story on Twitter and Facebook:
[facebook //www.facebook.com/plugins/like.php?href=