The Miami Fraternal Order of Police has voted to have all officers boycott Beyonce's concert April 26 and called on police unions across America to take a similar stance.
FOP President Javier Ortiz outlined the Miami union's position in a statement, saying the singer "used this year's Super Bowl to divide Americans by promoting the Black Panthers and her antipolice message," which demonstrates "she does not support law enforcement."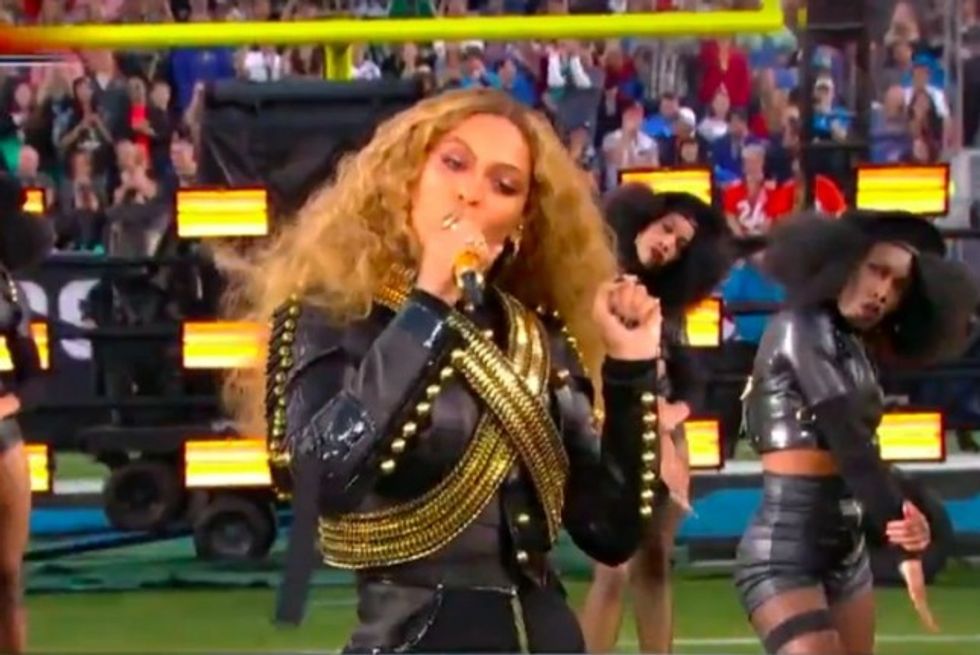 Image source: CBS Sports
"I was one of the tens of thousands of law enforcement officers that didn't watch the Super Bowl halftime show out of respect for our profession," Ortiz wrote. "On another day while flipping through the television channels, I did mistakenly watch her 'Formation' video that shows scenes of a young black boy dancing in front of police in riot gear, who signal their surrender by putting their hands up, referencing the 'Hands up, don't shoot' anthem of the Black Lives Matter movement inspired by the 2014 death of Michael Brown in Ferguson, Missouri." Ortiz added that "Hands up, don't shoot was built on a lie."
"We ask all law enforcement labor organizations to join our boycott across the country and to boycott all of her concerts," he concluded.
But Maj. Delrish Moss, a spokesman for the Miami Police Department, told the Huffington Post that the Beyonce concert at Marlins Park would be patrolled.
"Right now the union president has his First Amendment right to say whatever he wants to say, but that doesn't always translate to reality," Moss told the Post. "As far as we see, there's no indication that anything that is said there will translate into police officers not working the job."
Other police unions are looking to follow suit.
The president of New York's Sergeants Benevolent Association told WPIX-TV he's considering calling for a security boycott for Beyonce's concert at Citi Field in June.
"Law enforcement across the country has to make a statement that we're not bad guys and she's got to stop portraying us as bad guys," Ed Mullins told the station.
Houston Police Officers Union President Ray Hunt told KTRK-TV officers "are saying they want to boycott" Beyonce's concert in May.
TheBlaze reported Thursday that no Tampa police officers have signed up for Beyonce's show in April, but later in the afternoon the department told WTVT-TV that "dozens" of officers have signed on to provide security at the show.
What?! @TampaPD officers have been in #formation for days signing up to keep the #Beehive safe! #Truth#Factpic.twitter.com/5skrSDNHNS

— TampaPD (@TampaPD) February 18, 2016
More from WTVT:
FOX 13 asked TPD to show us a list of officers who volunteered to take on the extra shift during Beyonce's show, but a spokesman said TPD is unable to do so because of the way these types of events are staffed, which he described as "decidedly decentralized," with supervisors working off several different lists.