President Barack Obama presented an optimistic outlook regarding fight against the Islamic States, during remarks Thursday at the State Department.
"Bottom line, there are fewer ISIL fighters on the battle field in Syria and Iraq and for those that are there, it's harder for them to recruit and replenish their ranks," Obama said. "As finances shrink, ISIL is also imposing more taxes and fines on those under its brutal rule. That in turn stokes even more resentment among local populations. More people are realizing that ISIL is not a caliphate, it's a crime ring."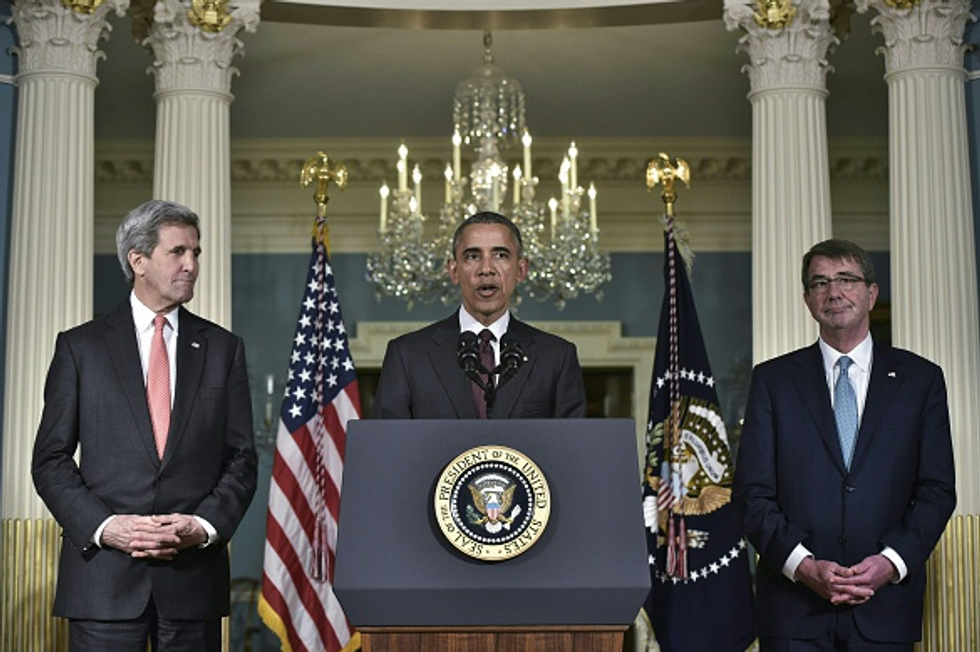 President Barack Obama speaks between Secretary of State John Kerry (L) and Defense Secretary Ashton Carter following a meeting with the National Security Council (NSC) on February 25, 2016 at the State Department in Washington, D.C. (MANDEL NGAN/AFP/Getty Images)
The president said the State Department is working with allies in the Arab world to combat the propaganda campaign from the Islamic State, and added the Sunni militant group is losing the public appeal it once had.
"It's a criminal gang pretending to be a state, said one Syrian refugee. They turned out to be thieves, said another," Obama said. "They are not winning over hearts and minds and they are under severe pressure."
Obama met with his national security team at the State Department to discuss the strategy going forward to combat the Islamic State. He said that nearly every ally nation is stepping up with more resources in the effort, but he said those allies would also have to commit to helping to rebuild some of the ruins left behind by the Islamic State.
Obama heralded the negotiated cease-fire in the Syrian civil war.
"The only way to deal with ISIL in a lasting way, in a way that ends their influence, is to end the chaos and the civil war that has engulfed Syria," Obama said. "That's how ISIL was able to thrive in the first place. The cessation of hostilities that is scheduled to take effect at midnight tomorrow is a potential step in bringing about an end to the chaos."
—