DALLAS, Texas — Republican front-runner Donald Trump had a super night.
The businessman and 2016 contender won Tennessee, Massachusetts, Alabama, Virginia and Georgia.
Following his wins in New Hampshire, South Carolina and Nevada, Trump could notch a near-clean sweep of Super Tuesday states on his march toward the Republican nomination.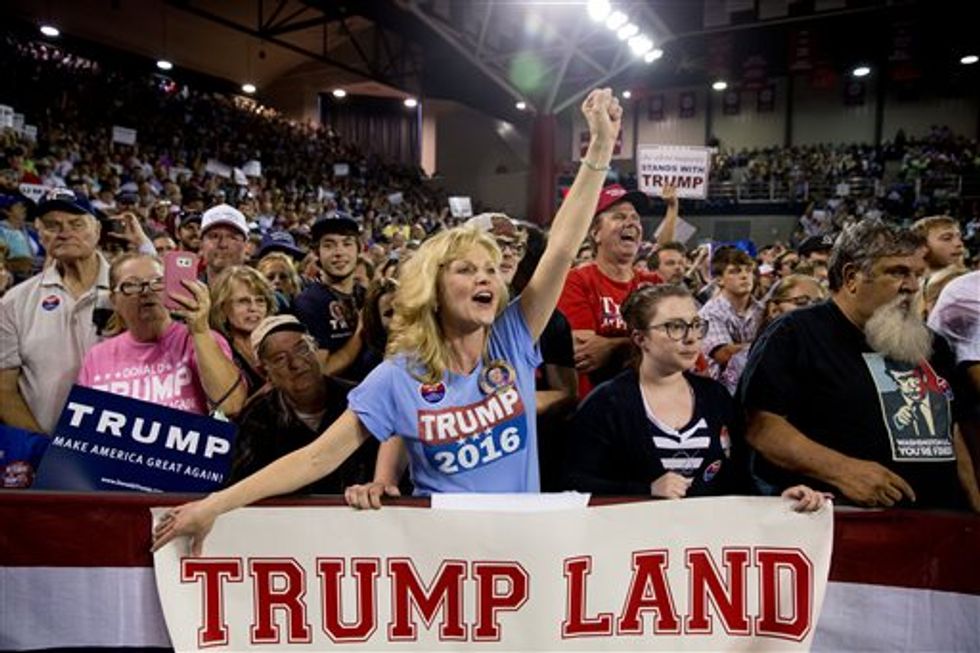 A supporter cheers for Donald Trump at Valdosta State University in Valdosta, Ga., on Monday. (AP/Andrew Harnik)
Trump looked to be within about 10 percent of the vote in Texas — a state Sen. Ted Cruz had hoped to win handily. But Cruz's win in his home state, a win in Oklahoma and a handful of second-place finishes in states that Sen. Marco Rubio hoped to compete for second in amounted to a decent night for the candidate.
Rubio held a rally in Florida on the night of the SEC Primary, kicking off a serious push in his home state. But Trump outshone him still — reportedly picking up the endorsement of Florida Gov. Rick Scott and announcing it in a press conference Tuesday night.
"Tonight, Donald Trump was the clear winner on Super Tuesday," New Jersey Gov. Chris Christie said at news conference.
Trump pointed out at the news conference that Rubio had a "tough night" on Super Tuesday, and pledged that he'd spend much of his time in the state ahead of its March 15 primary.
"We're going to go to Florida, we're going to spend so much time in Florida," Trump said. "We have a 20-point lead."
Neither Rubio or Cruz significantly outperformed their expectations Tuesday night, making it unlikely that either will drop out of the race in the near future — and leaving the path for Trump toward the nomination much more open.
—
Follow the author of this story on Twitter and Facebook:
[facebook //www.facebook.com/plugins/like.php?href=