Moments after 2012 Republican presidential nominee Mitt Romney offered a brutal takedown of the current GOP presidential front-runner Donald Trump, he had an echo — 2008 Republican presidential nominee Sen. John McCain (Ariz.).
McCain urged voters to "think long and hard about who they want to be our next commander in chief and leader of the free world" in a statement released after Romney's speech in Utah Thursday. The senator said that he "shares the concerns" of Trump that Romney had just laid out, including that of Trump's ability to handle national security issues.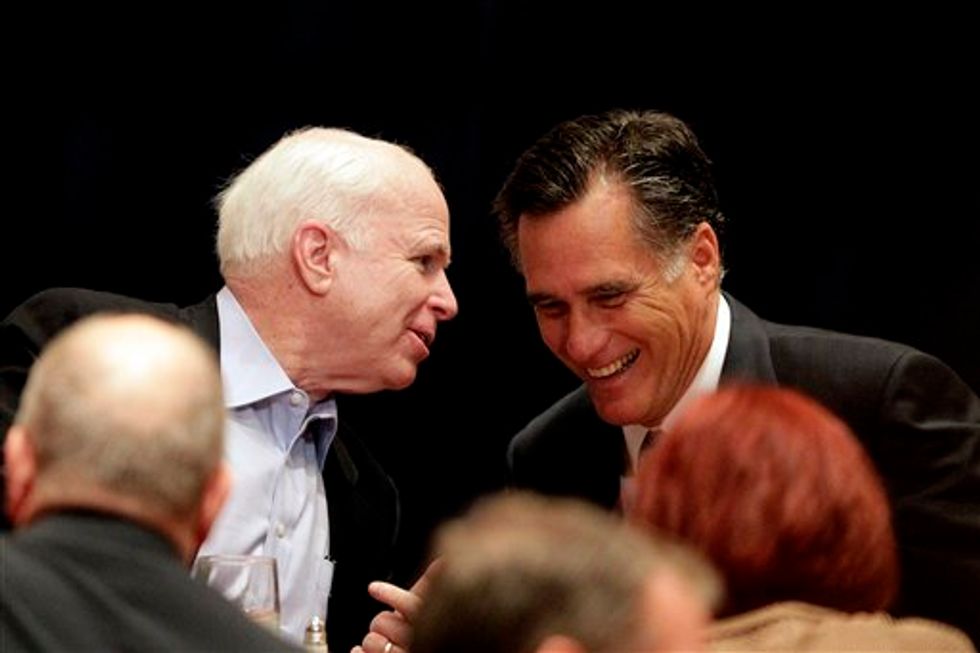 Former Republican presidential candidate Mitt Romney chats with Sen. John McCain (R-Ariz.). (AP Photo/Jae C. Hong)
"At a time when our world has never been more complex or more in danger, as we watch the threatening actions of a neo-imperial Russia, an assertive China, an expansionist Iran, an insane North Korean ruler and terrorist movements that are metastasizing across the Middle East and Africa, I want Republican voters to pay close attention to what our party's most respected and knowledgable leaders and national security experts are saying about Mr. Trump and to think long and hard about who they want to be our next commander-in-chief and leader of the free world," McCain said.
In his speech, Romney warned that hopes for a safe future are "greatly diminished" should Trump become the next president. He urged voters to instead support Florida Sen. Marco Rubio, Ohio Gov. John Kasich or Texas Sen. Ted Cruz as he said those three Republican candidates are the only ones who have "serious policy proposals that deal with the broad range of national challenges we confront today."
Romney, the former Massachusetts governor, went on to label Trump a "phony, a fraud" whose "promises are as worthless as a degree from Trump University."
"His is not the temperament of a stable, thoughtful leader," Romney said. "His imagination must not be married to real power."
Romney's remarks stand in stark contrast to his rhetoric when he ran for president in 2012. Then, at a hotel in Las Vegas, Romney called Trump's endorsement of his candidacy a "delight" and reveled in Trump's ability to "understand how our economy works and to create jobs for the American people."
—
Follow Kaitlyn Schallhorn (@K_Schallhorn) on Twitter