As GOP presidential frontrunner Donald Trump gave his victory speech after his wins in Michigan and Mississippi Tuesday night, the real winners seemed to be his business ventures.
Trump did not miss an opportunity to mention the conglomerate of businesses and projects that he's created — ranging from magazines to steaks and from resorts to wine.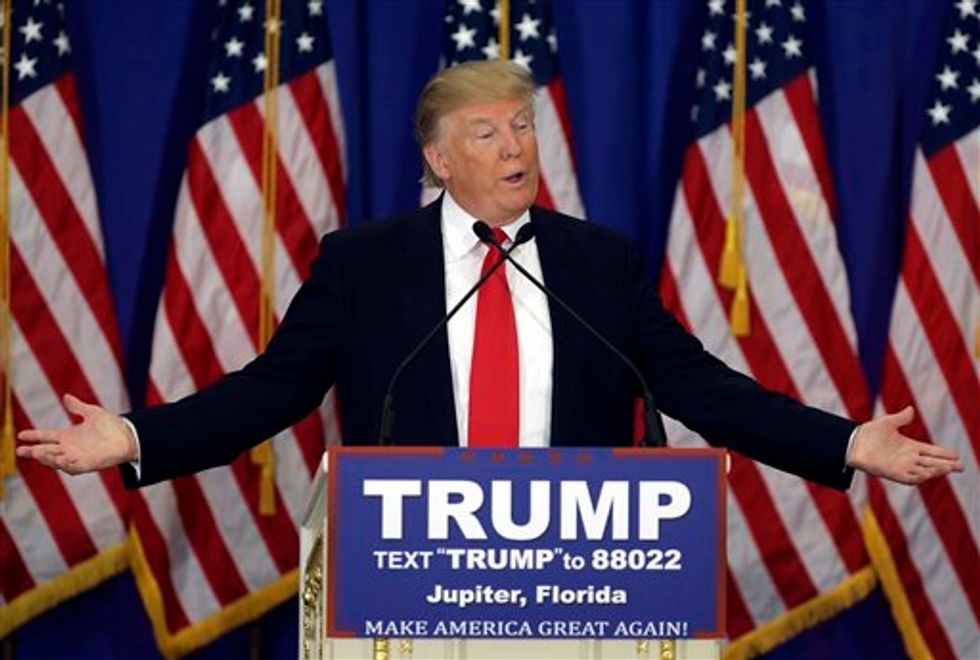 Republican presidential candidate Donald Trump speaks during a news conference at the Trump National Golf Club, Tuesday, March 8, 2016, in Jupiter, Fla. (AP Photo/Lynne Sladky)
The businessman even offered some of of his retail products to those gathered at his golf resort in Jupiter, Florida on Super Tuesday Two and tossed a magazine to someone in the audience at one point. Trump also encouraged members of the press to take a bottle of wine with them.
"Advertising is not as important as competence," Trump said at one point during his speech that resembled an infomercial for his products.
The decadent steaks were a point of contention, though, as people pointed out that the steaks appeared to have a Bush Brothers Provision Company logo on the packages — a company that operates in West Palm Beach, Florida.
Close up of the "Trump Steaks." Does that say Bush Brothers? There's a Bush Brothers in WPB https://t.co/hhdMzBTBrJ pic.twitter.com/Ro3BiwwXkC

— Greg Pollowitz (@GPollowitz) March 9, 2016
Trump Winery's website lists Eric Trump, Donald Trump's son, as its president.
"It's the largest winery on the East Coast. I own it 100 percent, no mortgage, no debt," Trump said, adding that the media should fact check his comment.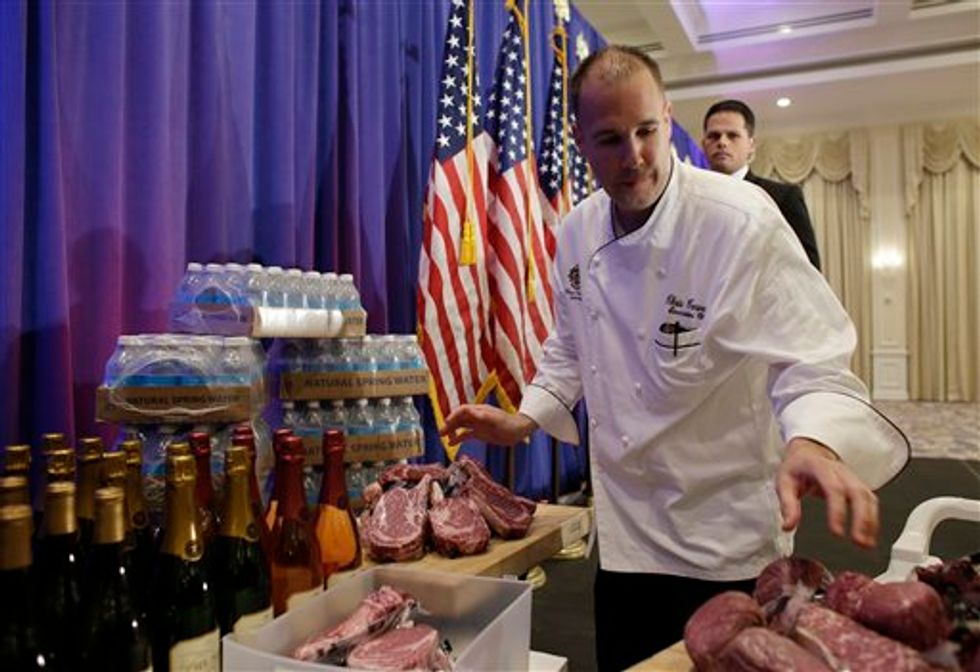 A chef with the Trump National Golf Club arranges Trump branded steaks for a display prior to a scheduled news conference by Republican presidential candidate Donald Trump, Tuesday, March 8, 2016, in Jupiter, Fla. Trump branded steaks, wine, and water were on display next to the stage. (AP Photo/Lynne Sladky)
"We're very proud of it. We make the finest wine, as good of wine as you can get anywhere in the world," he continued. "And I know the press is extremely honest so I won't offer them any, but if they want, they can take a bottle of wine home."
Trump said he "brought some things up" because of certain attacks made by former Republican presidential candidate Mitt Romney who blasted the businessman in a press conference of his own last week.
"Mitt got up and he really shouldn't have done it. It wasn't very becoming. He talked about the water company. Well there's the water company," Trump said as he pointed at a table offstage. "I mean, we sell water. And it's a very successful, you know it's a private little water company, and I supply the water for all my places and it's good."
"I have very successful companies. I filed with the Federal Elections [Commission] 100 pages almost, 100 pages that many of the press have gone down and seen and they were all very, very impressed. I built a great, great company. I have very low debt, I have assets like this, owned 100 percent by me with no debt," Trump said as he held his arms out.
Besides his products, Trump also couldn't seem to stop talking about his celebrity and big-name supporters. Former New York Yankee baseball player Paul O'Neill, who has endorsed Trump, was pointed out in the audience during his speech.
"I want to thank [Speaker] Paul Ryan. He called me a couple of days ago. He could not have been nicer," Trump said of the Wisconsin lawmaker. "He was very encouraging, and I have great respect for Paul Ryan."
During his victory speech and subsequent news conference, Trump called on the Republican Party to unite behind him as a candidate and asserted that critiques and hits — especially from other candidates, current and former — have only propelled the New Yorker's campaign even further.
He also accused both Florida Sen. Marco Rubio and Texas Sen. Ted Cruz for communicating with their presidential campaigns' super PACS — a move that is highly forbidden.
"That's the way life works," Trump said.
Trump handedly won Mississippi Tuesday night, a state that was quickly called for him after its polls closed. In Michigan, Trump defeated Ohio Gov. Kasich and Texas Sen. Ted Cruz although the race between Trump and Kasich seemed tight in early projections.
Watch Trump's full speech below.
—
Follow Kaitlyn Schallhorn (@K_Schallhorn) on Twitter.