CNN anchor Ashleigh Banfield on Wednesday praised President Barack Obama's Supreme Court nominee Merrick Garland and at one point even called the judge "perfect."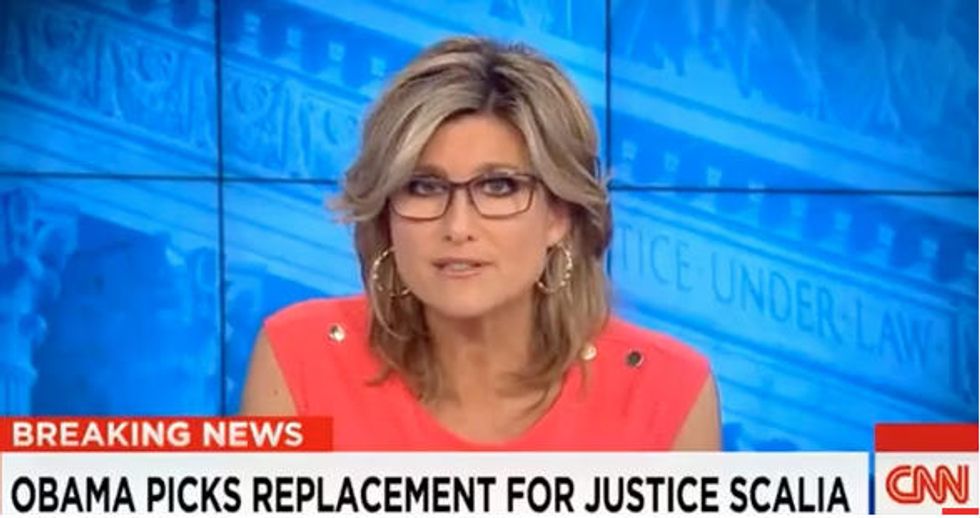 Ashleigh Banfield (Image source: CNN)
Banfield noted Garland's move earlier in his career to leave a position at a prestigious law firm in Washington, D.C., in favor of becoming a junior prosecutor at the Justice Department.
"A lot of people point to that move as something that proves that he is absolutely a public servant first," Banfield said to her guest, former Justice Department lawyer Amy Jeffress, who once worked with Garland.
"Do you think this is a move that it will at least show anybody who is against him is against a guy who is, like, perfect?" Banfield asked. Jeffress laughed, before going on to agree with the anchor.
"He is perfect. He really is perfect for the court," Jeffress responded.
"From a lawyer's perspective, he is absolutely an outstanding nominee, and I think that came through in the ceremony this morning," Jeffress said earlier in the segment. "He is eminently qualified to serve on the court, and I don't think anyone would argue with his qualifications."
Republicans, who may quibble with Garland's qualifications, are pointing out that their real objection stems from the idea of a U.S. president in his last year of office nominating a Supreme Court justice for a life term during an election year.
Senate Majority Leader Mitch McConnell (R-Ky.) said it's possible the American people will elect a president in November who will nominate Garland but noted that there is a chance of the next president putting forth a nominee who is much different.
"Either way, our view is this: give the people a voice in filling this vacancy," McConnell said.
–
Follow the author of this story on Twitter and Facebook: