Republican presidential candidate Donald Trump said his Supreme Court nominee would be pro-life and conservative, adding to reporters at the site of the future Trump International Hotel that a list of seven to 10 names of potential nominees is forthcoming.
A reporter asked if his high court nominee would face a "litmus test" on the issue of abortion.
"We're going to look at that. It's going to be pro-life," Trump said. "We're going to look at that. We're going to look at intellect, very important. We want very, very smart people. We want conservatives on the Supreme Court."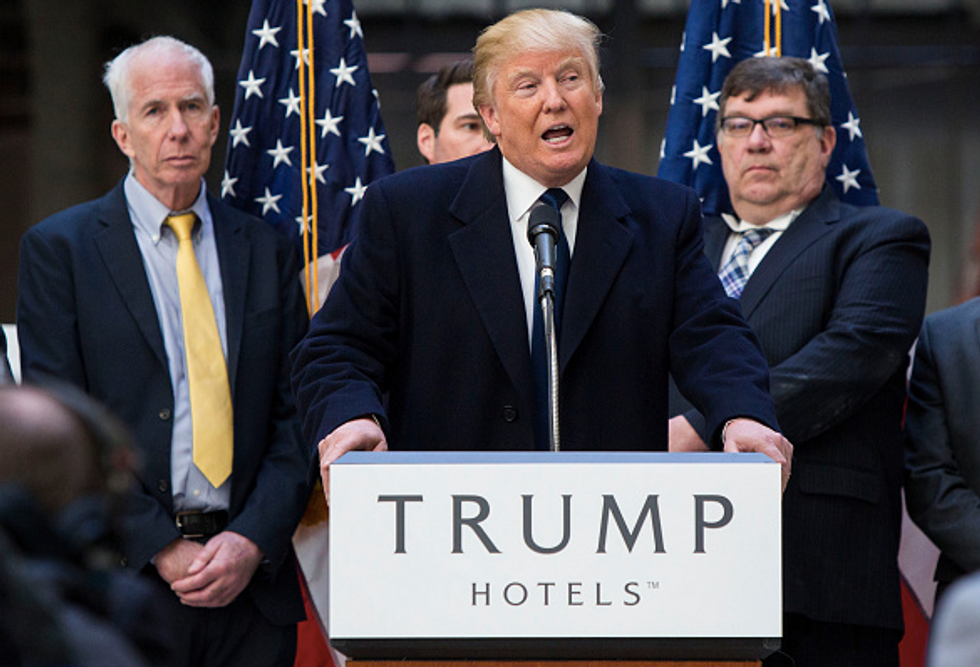 Republican presidential candidate Donald Trump speaks at a news conference at the construction site for the Trump International Hotel, at the Old Post Office Pavilion in downtown Washington, D.C., Monday, March 21, 2016. (Al Drago/CQ Roll Call)
Trump's assertion comes amid a Supreme Court vacancy after the death of Justice Antonin Scalia. President Barack Obama nominated Judge Merrick Garland of the District of Columbia Circuit Court of Appeals. However, Senate Republicans said they would block the nomination, thrusting the Supreme Court into a high stakes presidential issue.
"We are going to be making up a list of between seven to 10 people. I will be distributing that list in the very near future," Trump said.
Trump said the next president could appoint four or five justices to the high court, which is one reason he warned conservatives against fielding a third party challenger if he wins the nomination.
Trump said he has shared the list with some other Republicans. He met Monday with Sen. Jeff Sessions (R-Ala.) and several other Republican senators and House members. He said he didn't have a list of all their names.
TheBlaze asked Trump if his support for funding Planned Parenthood and his backing of a single payer health care system were talked about at all during the meeting.
"No. That did not come up," Trump told TheBlaze.
Just last month, Planned Parenthood President Cecile Richards offered mixed praise for Trump.
—