Megyn Kelly has weighed in on a feud between Republican presidential candidates Donald Trump and Texas Sen. Ted Cruz regarding their wives — and she needed only one word.
"Seriously?" Kelly tweeted in response to a Trump retweet mocking Heidi Cruz's appearance.
Seriously? https://t.co/pPBJkKDUwG

— Megyn Kelly (@Megyn Kelly) 1458827259.0
Kelly has been a frequent target of Trump's Twitter tirades.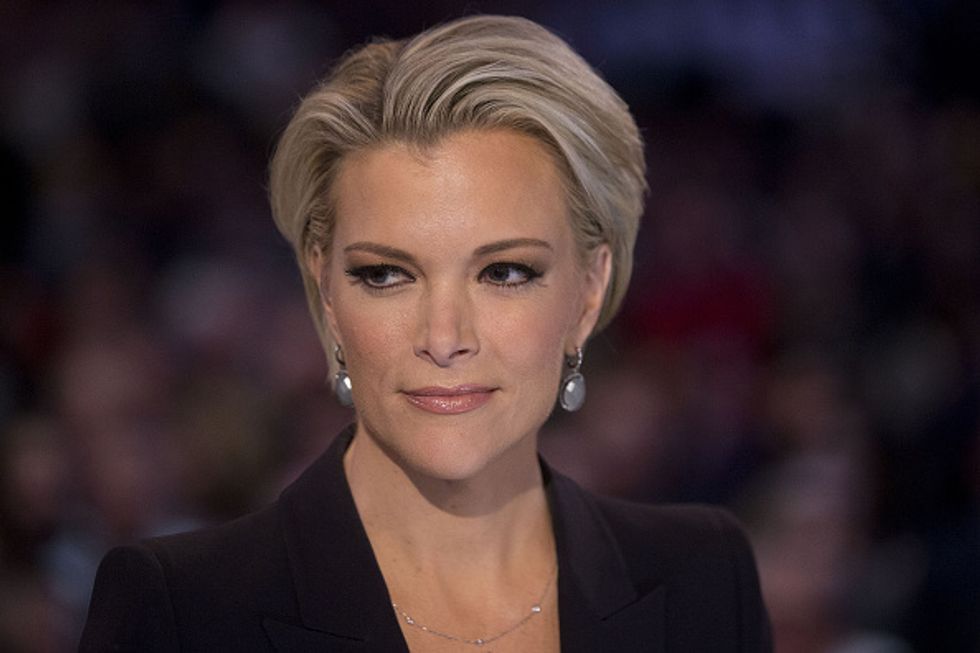 Fox News anchor Megyn Kelly waits to begin the Republican presidential candidate debate at the Iowa Events Center in Des Moines, Iowa, Jan. 28 (Andrew Harrer/Bloomberg)
The feud between the two GOP candidates began when an anti-Trump super PAC — Make America Awesome — released an ad featuring a risque photo of Trump's wife, Melania, which they said was targeted at Mormon women in the Utah GOP primary.
Trump blamed Cruz for the ad and threatened to "spill the beans" on Cruz' wife, Heidi, in response.
Lyin' Ted Cruz just used a picture of Melania from a G.Q. shoot in his ad. Be careful, Lyin' Ted, or I will spill the beans on your wife!

— Donald J. Trump (@Donald J. Trump) 1458697985.0
Pic of your wife not from us. Donald, if you try to attack Heidi, you're more of a coward than I thought. #classless https://t.co/0QpKSnjgnE

— Ted Cruz (@Ted Cruz) 1458699693.0
"You probably know by now that most of the things that Donald Trump says have no basis in reality," Heidi Cruz said at a press conference in Waukesha, Wisconsin, Wednesday.
Cruz called Trump's attack "gutter politics" and said that, given her business background, Heidi "is used to dealing with bullies."
"Donald Trump doesn't scare Heidi remotely," Cruz said at a Wednesday press conference.
Trump retaliated by retweeting a meme mocking Heidi's appearance, which was the tweet to which Kelly was responding.