Four men in Utah have been arrested and charged with first-degree felony rape of a child and first-degree sodomy after they allegedly gang-raped a nine-year-old girl who was sleeping on a sofa while her mother was smoking methamphetamine nearby, according to KSTU-TV.
The alleged assault happened on Easter Sunday at a home in Vernal, Utah, police said.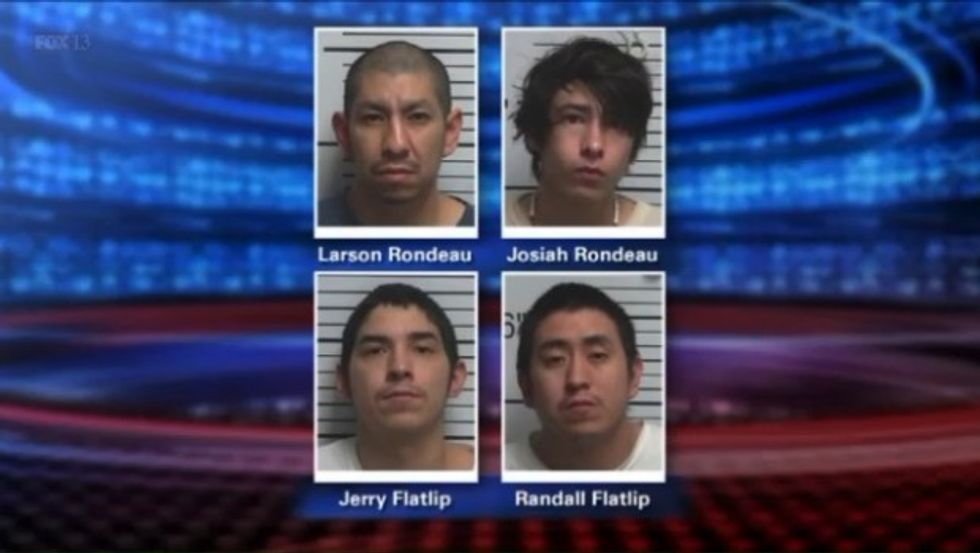 Image source: WSTU-TV
According to a statement from police, when the mother returned from getting high with her friend in the home's garage, she found her daughter upset. Her daughter's clothes were in "disarray" and she was saying that she wanted to go home. It wasn't until the next day that the girl revealed to her mother that she was forced into a bedroom and raped by the four men while her mom was absent.
The young girl said that one of the men even threatened to kill her should she tell anyone about the assault. After learning of the incident, the girl's mother immediately phoned police.
Police initially arrested Larson RonDeau, 36, and charged him with first-degree felony rape of a child and first-degree sodomy after the young girl identified him from a photograph. RonDeau agreed to be interviewed by police without an attorney present, authorities said. However, he denied having any involvement in the assault.
Police later identified and arrested Josiah RonDeau, 20, Jerry Flatlip, 29, and Randall Flatlip, 26, also charging them with first-degree felony rape of a child and first-degree sodomy.
During a search of the property where the alleged assault took place, police located and collected evidence related to the assault, including bloodstained bed sheets. Marijuana and other drug paraphernalia was seized during the search, as well.
The young girl, who has not been publicly identified, is being cared for by the state of Utah rather than being left in the custody of her mother.
"My granddaughter doesn't deserve to go through this, and I am very, very, very disgusted in people like that," the girl's grandmother, identified only as "Elizabeth," told WSTU. "I want hardcore punishment to what they have done to this child, because that shouldn't happen to anybody."
—
Follow the author of this story on Twitter and Facebook:
[facebook //www.facebook.com/plugins/like.php?href=