During an interview with The New York Daily News' editorial board, Democratic presidential candidate Bernie Sanders inflated the number of Palestinian civilians killed during the summer 2014 Israel-Gaza conflict -- and by a magnitude of seven times more than the disputed figure reported by Palestinians.
Responding to a question about whether or not he supported Palestinian efforts to file war-crimes complaints against Israel at the International Criminal Court, Sanders said that while he did not support those moves, he believed that "over 10,000 innocent people were killed in Gaza." The answer came on the heels of another question referring to the July-Aug. 2014 conflict.
Sanders cited the 10,000 figure twice, though he conceded he didn't exactly "remember the figures."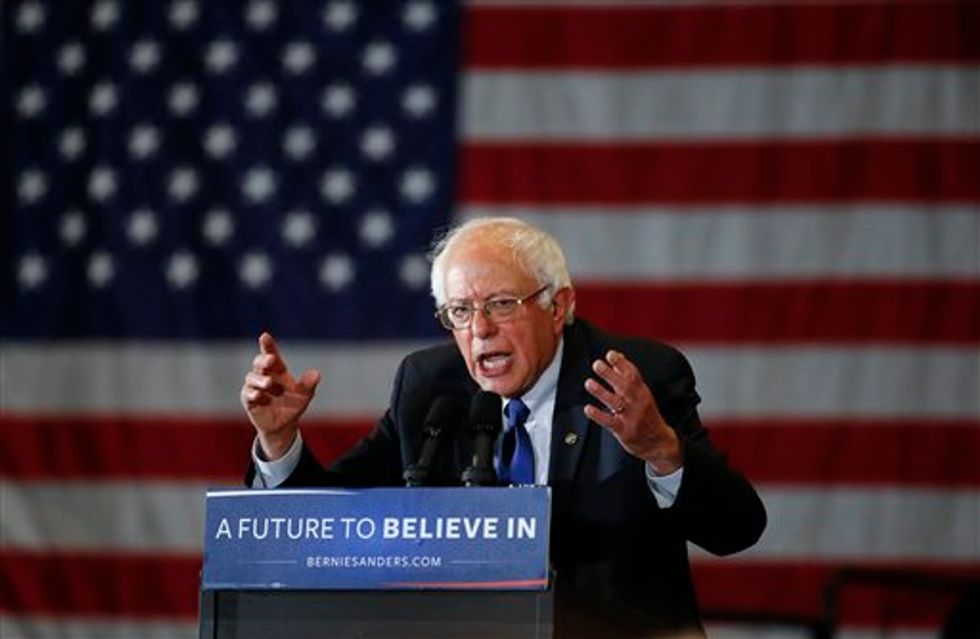 Democratic presidential candidate Sen. Bernie Sanders, I-Vt., speaks during a campaign event, Monday, April 4, 2016, in Milwaukee, Wisconsin. (AP Photo/Paul Sancya)
The Times of Israel noted Tuesday that the candidate's estimate of the death toll "far exceeds that of official Palestinian sources."
The Palestinian figure – which Israel disputes – totaled 1,462 civilians killed out of 2,251 fatalities in Gaza during the conflict.
The Israeli government has asserted that official Palestinian figures are "highly unreliable" and has accused Hamas of "deliberately" inflating Palestinian civilian fatalities in order to help hide the identity of its combatants. Furthermore, Israel has repeatedly said that many civilian deaths could have been avoided if Hamas had not placed rocket launchers, tunnel entrances and other military facilities in residential areas.
"My understanding is that a whole lot of apartment houses were leveled. Hospitals, I think, were bombed. So yeah, I do believe and I don't think I'm alone in believing that Israel's force was more indiscriminate than it should have been," the Democratic candidate told The Daily News.
Apropos of Sanders' hospital comment, according to eyewitness accounts from reporters broadcasting from Gaza in 2014, Hamas launched rockets from next to Gaza's main hospital, while the United Nations admitted Hamas had used its schools in Gaza to store rockets.
Sanders had criticism for the Palestinian side as well. He said if elected president he would demand an "absolute condemnation of all terrorist attacks."
"The idea that in Gaza there were buildings being used to construct missiles and bombs and tunnels, that is not where foreign aid should go. Foreign aid should go to housing and schools, not the development of bombs and missiles," he said, referring to Hamas exploiting foreign aid for military development.
Sanders told the Daily News that U.S.-Israel relations under his leadership would hinge on Israel improving its relations with the Palestinian Authority.
"[T]o the degree that they want us to have a positive relationship, I think they're going to have to improve their relationship with the Palestinians," Sanders said.
The Jewish candidate told the New York paper that he has family in Israel and has spent time there, and that he believes Israelis have the right to live in peace and security.
"I believe 100 percent not only in Israel's right to exist, a right to exist in peace and security without having to face terrorist attacks," he said. "But from the United States' point of view, I think, long-term, we cannot ignore the reality that you have large numbers of Palestinians who are suffering now, poverty rate off the charts, unemployment off the charts, Gaza remaining a destroyed area."