Vermont Sen. Bernie Sanders claimed his seventh consecutive primary win Saturday in the Wyoming Democratic caucus. After the results were announced, Republican National Committee (RNC) Chairman Reince Priebus was quick to offer his comments on what another Sanders win could mean for Democratic presidential candidate Hillary Clinton:
Once the inevitable front-runner, Hillary Clinton has now lost her seventh straight contest. This embarrassing string of defeats to a 74-year old socialist from Vermont is another reminder of what a desperately flawed candidate she is, and how beatable she will be in November if she becomes the nominee. Liberals can't stomach her constant contradictions: raising money from the very groups she pretends to attack while flip flopping on issue after issue to pander to voters.
Saturday's victory means Sanders has now won 16 states, compared to Clinton's 18. But judging by the amount of delegates each candidate has claimed, Clinton remains the clear leader, with 1,286, compared to Sanders' 1,037 delegates.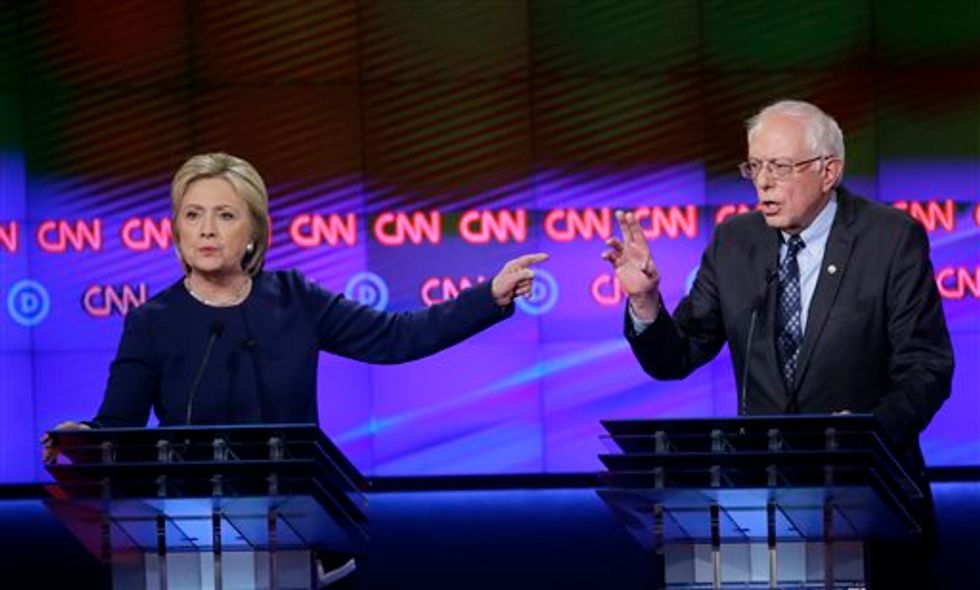 AP Photo/Carlos Osorio

The nomination will go to whoever can claim 2,383 delegates.
After noting the delegate gap between the two Democratic candidates, some took to Twitter, employing the hashtag "#FeelTheMath":
Can't imagine @BernieSanders is jumping up & down at #WYCaucus results. Only 1 more caucus left.. No change in delegate math. #FeelTheMath

— NurseMom (@NurseMom) 1460239621.0
There's no path 2 victory 4 Sanders after underperforming Wyoming. Stop asking college kids 2 give u money they don't have #feelthemath

— Michael Kempner (@Michael Kempner) 1460257158.0
Math (n) The thing that belies all of Bernie's proposals & his chance at the nomination. #FeelTheMath #ImWithHer https://t.co/ODIvFqw9Ss

— Dr Jarryd Willis PhD (@Dr Jarryd Willis PhD) 1459950597.0
Priebus asserted Saturday that another Sanders win is indicative of a divided Democratic Party and expressed confidence in the prospect of a Republican claiming the White House seat:
As both Clinton and Sanders promise to continue and expand the disastrous Obama agenda, Republicans are committed to charting a new course that will produce prosperity and security for every American. Only a Republican president in the White House can be trusted to lead the turnaround America is ready for.
—
Follow the author of this story on Twitter: