A new video of Gaza Muslim clerics with ties to Hamas claiming to purge Palestinian children of evil spirits has sparked an uproar among Palestinians who are accusing the jihadist group of trying to brainwash young people.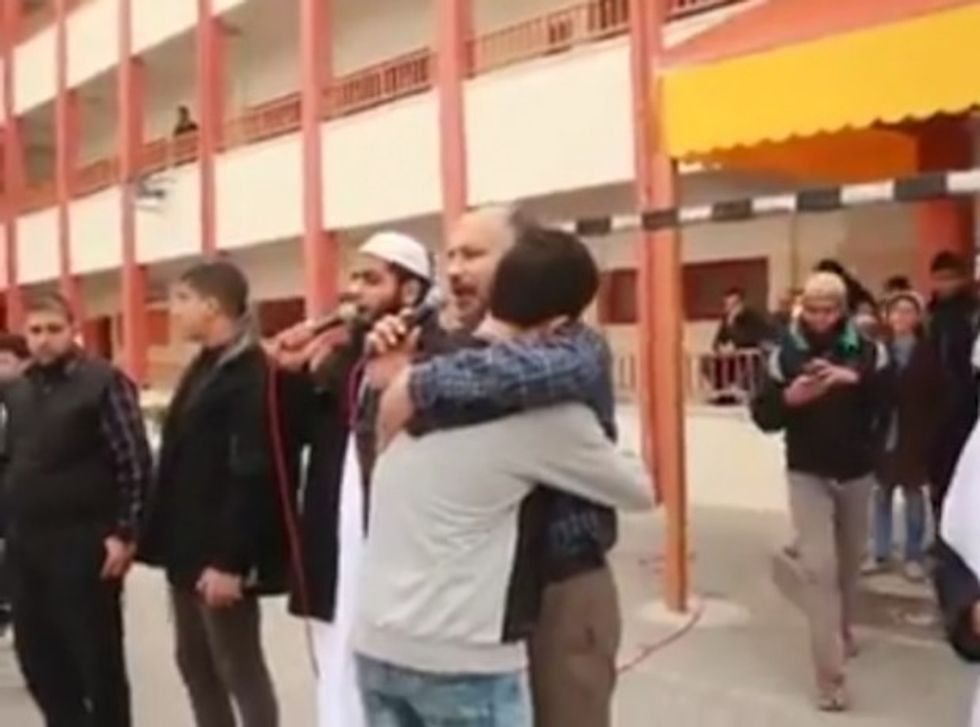 The preacher hugs a purportedly repentant teen while calling on others to shout "Allahu akbar!" (Image source: YouTube)
Khaled Abu Toameh, a veteran Arab affairs correspondent for the Jerusalem Post, described the exorcism phenomenon in an article for the Gatestone Institute:
The practice, which aims to cast out "demons" that might have wormed their way into the children's souls, has shocked many Palestinians.

This newest Hamas-perpetrated child abuse was exposed in a video that was leaked to Palestinian social media. The cruelty of the behavior has caused an uproar among Palestinians.

The video shows hysterical children in the company of exorcising preachers belonging to the Hamas-controlled Wakf (Islamic trust) Ministry in the Gaza Strip. This humiliating and invasive rite is being practiced at the Al-Nil School in Gaza City.
Abu Toameh reported that in the following video, one of the clerics was heard telling the courtyard full of teenagers, "We did not come to enact a theater scene, but to expel the devil from the hearts and minds and enter the satisfaction of Allah into hearts."
As the youths kneel and cry, the preachers shout "Allahu akbar!" that is, Allah is the greatest. One by one the teens approach the clerics who hug them, as some of the boys appear to be overcome with emotion and tears.
Abu Toameh explained that while the clerics belong to a group called "The Ship of Missionary Salvation," the effort is actually overseen by the official Waqf Islamic trust ministry in Gaza.
Because of the official stamp of approval, the clerics are able to visit Gaza schools where they claim to perform exorcisms and draw the children closer to Islam.
More secular-minded Palestinians are aghast at the display, including PLO Executive Committee member Hanan Ashrawi who said the video showed how Hamas behaves in a "reactionary manner."
The Palestinian Marxist group, the Popular Front for the Liberation of Palestine, called the practice mental torture of children.
In 2011, Reuters reported on what it described as a "flourishing" business of "Koranic exorcists" in Gaza who purport to expel demons and evil spirits from their clients.