Five-year-old Sammy Seymour was attending a play for the first time with his family April 14, 1865, when he witnessed President Abraham Lincoln's assassination.
"All of a sudden a shot rang out — a shot that always will be remembered — and someone in the President's box screamed," Samuel J. Seymour recalled in a 1954 article for the Milwaukee Sentinel. "I saw Lincoln slumped forward in his seat. People started milling around and I thought there'd been another accident when one man seemed to tumble over the balcony rail and land on the stage."
That man, of course, was John Wilkes Booth, Lincoln's killer.
Booth wasn't apprehended for 12 more days.
When he was 96, Seymour appeared on a television show called "I've Got a Secret." A video clip of Seymour's 1956 TV appearance, which resurfaced on YouTube in 2009, picked up some traction again Thursday on the anniversary of the shooting.
AMAZING! 96-year old man, on a game show in 1956, recalls personally witnessing the Lincoln assassination as a boy https://t.co/XFQ6dDoniN

— West Wing Reports (@West Wing Reports) 1460642150.0
After the show's panelists narrowed down his "secret" to a historical event, actress Jayne Meadows guessed that Seymour had witnessed Lincoln's death.
"You witnessed something to do with Abraham Lincoln," she said. "Was this a pleasant thing?"
"Not very pleasant, I don't think, I was scared to death," Seymour said.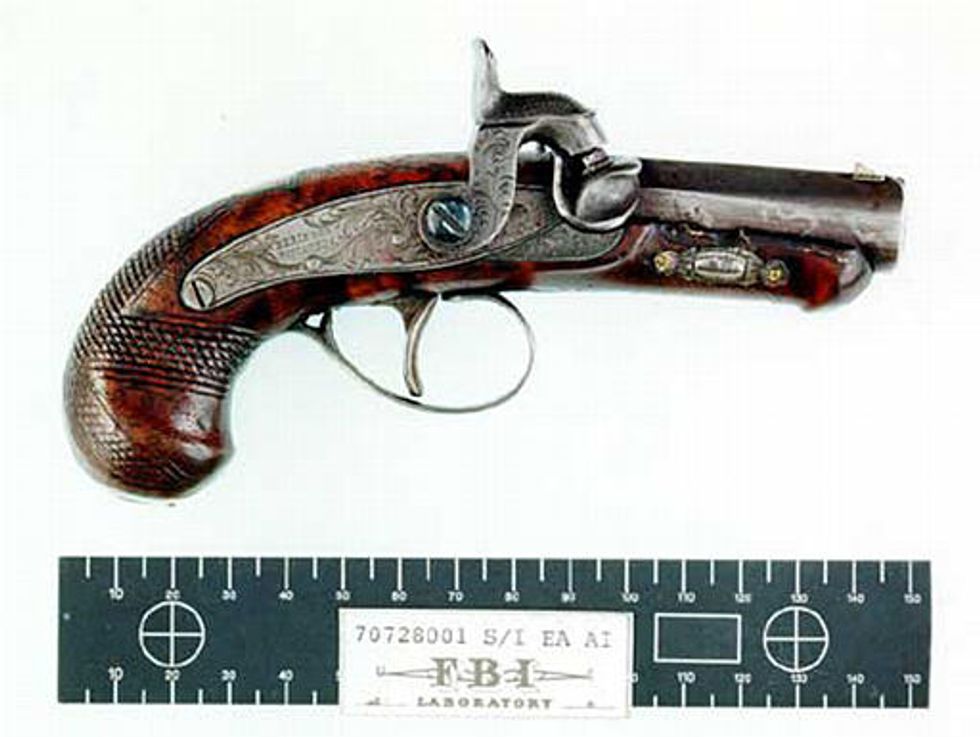 The Deringer pistol that was recovered from the state box at the Ford Theater and used by John Wilkes Booth to assassinate President Abraham Lincoln in 1865. (AP/FBI)
In the Milwaukee Sentinel article, Seymour said he was always haunted by what he witnessed at Ford's Theater.
"That night I was shot 50 times, at least, in my dreams — and sometimes I still relive the horror of Lincoln's assassination, dozing in my rocker as an old codger like me is bound to do," he said.
—
Follow the author of this story on Twitter and Facebook:
[facebook //www.facebook.com/plugins/like.php?href=