In a letter to state legislators, Tennessee Gov. Bill Haslam (R) explained that he decided to veto a bill Thursday that would have declared the Bible the official state book because it "trivializes" holy scripture.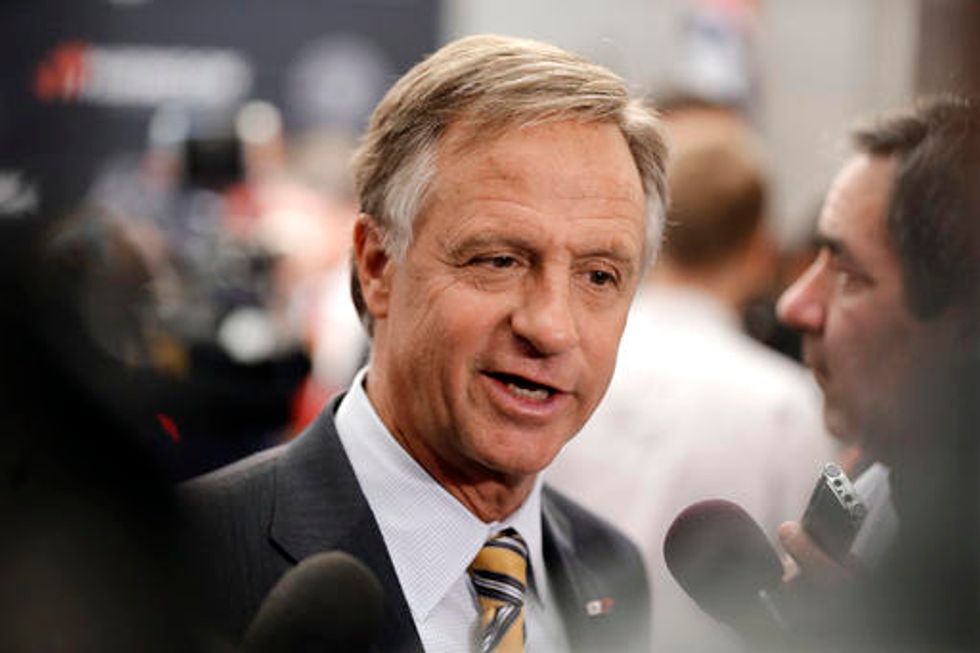 Tennessee Gov. Bill Haslam (R) talks with reporters in Nashville, Tenn. Haslam vetoed a bill Thursday that would have made the Bible the official book of Tennessee. (AP Photo/Mark Humphrey)
"My personal feeling," Haslam wrote, "is that this bill trivializes the Bible, which I believe is sacred text."
In addition, the Volunteer State governor, who identifies as a Christian, said passing such legislation is at odds with the U.S. Constitution. However, many lawmakers have committed to hold a vote to override his decision, Reuters reported.
The veto comes one week after the state Senate passed the bill, which the House approved last year. Haslam, who was re-elected in 2014, has faced mounting pressure from nonreligious voters and libertarian Tennesseans to keep the legislation from becoming law.
Hedy Weinberg, executive director of the American Civil Liberties Union of Tennessee, commended Haslam for his decision, saying those in public office should not "use their official positions to favor one religious belief over another."
Had the governor moved forward with the legislation, Tennessee would have made history as the first U.S. state to tap the Bible as its state book. There is, though, still hope for the legislation. A simple majority in each legislative chamber would overrule Haslam's decision.
"According to polling, 62 percent of all Tennesseans favor making the Holy Bible the state book in order to recognize its significance from a historical, economic and cultural standpoint," state Rep. Jerry Sexton (R), a House sponsor of the bill, said.
And, as for the effort to override the veto, Sexton and state Sen. Steve Southerland said they "plan to do exactly that."
—
Follow the author of this story on Twitter: 
—
Front-page image via Shutterstock