As Americans begin looking toward the general election, the path to the White House is looking rockier every day, a new NBC News/Wall Street Journal poll finds.
According to the new poll, seven-in-10 registered voters can't see themselves supporting current Republican presidential front-runner Donald Trump in November, followed by 61 percent of voters who say they couldn't support GOP candidate Ted Cruz and 58 percent who can't imagine casting a ballot for Democratic presidential front-runner Hillary Clinton.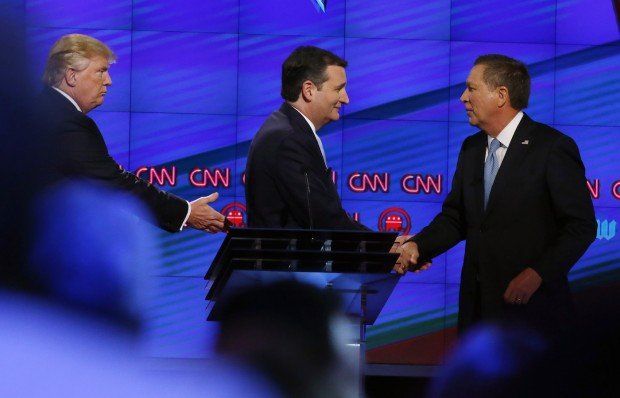 RHONA WISE/AFP/Getty Images
In addition, neither Trump nor Clinton are viewed favorably by a majority voters.
Based on the poll, which surveyed 1,000 registered voters from April 10 to 14, 65 percent of Americans have an unfavorable view of Trump, making him the most unpopular presidential hopeful in the history of the NBC/WSJ poll, and 56 percent of voters have an negative view of Clinton. Nearly half of voters have a negative view of Cruz, also.
Even more, only 19 percent found Clinton to be honest and trustworthy and only 12 percent believe Trump has the right temperament to be the leader of the free world.
"The Republicans have a party problem, and the Democrats have a candidate problem," Peter Hart, the Democratic pollster who conducted the survey along with Republican analyst Bill McInturff, said.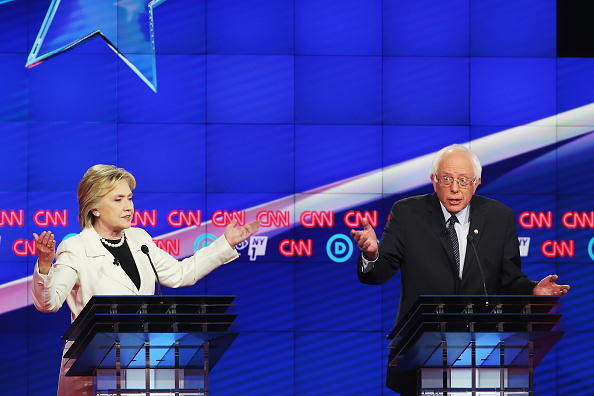 (Photo by Justin Sullivan/Getty Images)
And Democratic pollster Fred Yang said, "At some point, when the confetti is on the floor and the lights are turned out, the winner needs to govern. And the outlook for the next president, whoever he or she will turn out to be, looks grim."
Part of the reason for the "grim" outlook, the poll finds, is due to the intraparty fights that have left the both Clinton and Trump with bruises.
For example, 41 percent of Sanders voters have a negative view of Clinton, versus the 40 percent who have a positive view of the former secretary of state. And, on the Republican side, the chasm is even wider: 56 percent of Cruz supporters and 71 percent of Kasich backers have a poor view of Trump.
"As primaries go deeper," McInfurff said, "the opposition [becomes] more negative."
But, overall, 73 percent of Democratic voters signaled they would be satisfied with a Clinton nomination. However, only 47 percent of Sanders supporters agreed.
For the GOP, 63 percent of Republican voters said they would be satisfied with a Trump nomination, versus 66 percent who say they would be satisfied if Cruz earns the nomination this summer.
—
Follow the author of this story on Twitter: