From one supporter of Democratic presidential hopeful Bernie Sanders saying rival Hillary Clinton is "the devil" to another saying he is "Bernie or bust," the possibility of a united party under the former secretary of state doesn't look too promising.
When Fox News contributor David Webb, a conservative radio host, went to a Sanders campaign rally in Washington Square Park, New York, Sunday, supporters of the Vermont senator shared their honest opinions of Clinton — something Fox News host Sean Hannity described as "not pretty."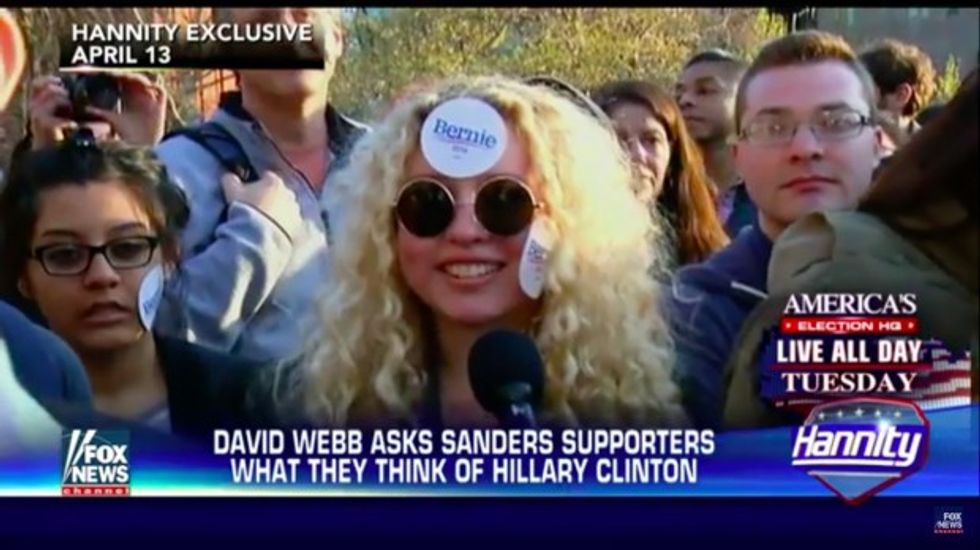 Image source: Fox News/YouTube
"I think she's honest to the people that pay her," one Sanders rally-goer said of Clinton when asked if he trusts her.
Another Sanders supporter said, "She's OK. I don't wanna be mean," and then Webb told her she can be honest. "She's the devil," the young woman shot back.
When Webb asked another young man if he could support Clinton if she wins the Democratic nomination, he quickly replied, "Absolutely not, absolutely not. I'm Bernie or bust, that's it. Bernie, or there's going to be a revolution in this country."
"[Clinton's unfavorability among Sanders supporters] tells us two things," Webb told Hannity. "Bernie's message has sunk in with his supporters about Hillary's untrustworthiness, about the fact that she lies."
Webb said Sanders backers see Clinton as "the corporatist" and as "being in the palm of Wall St." However, the Fox contributor also criticized Sanders, saying he needs to "start telling the truth" about the size of his rallies.
The Sanders campaign estimated 27,000 attendees at the Washington Square Park rally. But law enforcement said there were approximately 15,000 people.
"You can't fit 27,000 people in Washington Square Park," Webb asserted. "All the grass was closed off, so come on, Bernie, you're selling a little."
"It's like his importance to the race," he continued. "It's a bit overinflated, he's trying to get Hillary to the left."
Ultimately, though, Democratic strategist Doug Schoen had a less negative opinion for the Democratic front-runner. He told Hannity that voters will still show up to support Clinton because they don't want Republican presidential candidates Donald Trump or Ted Cruz to win the White House.
"They will basically be scared into voting for somebody they don't like — happens that way all the time," he said. "So, Sean, you know as well as I do, Hillary's the front-runner and the likely next president."
—
Follow the author of this story on Twitter: