The House Select Panel on Infant Lives held a hearing Wednesday regarding "The Pricing of Fetal Tissue" in an effort to determine if abortion clinics are profiting from the sale of aborted fetal body parts.
The panel released documents from one middleman tissue procurement business promising a financial benefit to clinics.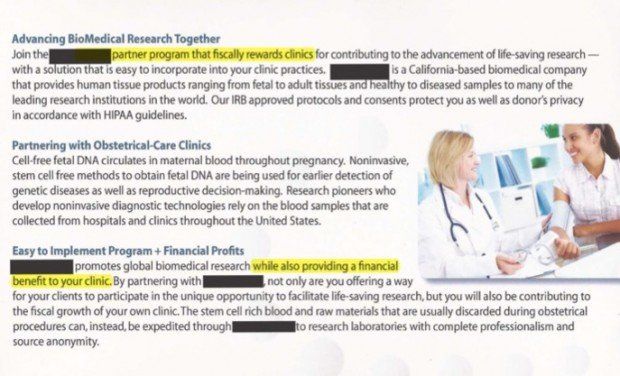 Image source: House Select Panel on Infant Lives
The panel was formed last year in response to undercover videos by the Center for Medical Progress that raised allegations that Planned Parenthood, the nation's largest abortion provider, trafficked in aborted fetal tissue. Planned Parenthood has denied wrongdoing.
"This does not sound to me like tissue donation for research," Rep. Marsha Blackburn (R-Tenn.), the panel's chairman, said during the hearing. "This sounds like someone who wants to make money, a lot of money, selling baby body parts."
Rep. Jan Schakowsky (D.-Ill.), ranking member on the panel, called the founder of the Center for Medical Progress "a proven liar" and claimed that his videos "are not accurate or reliable."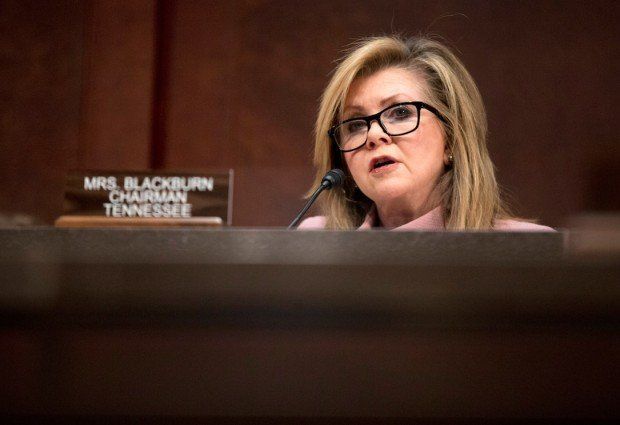 House Select Investigative Panel on Infant Lives Chairman Rep. Marsha Blackburn (R-Tenn.) presides over the committee's investigation of Planned Parenthood March 1 on Capitol Hill. (AP Photo/Manuel Balce Ceneta)
Sens. Jeanne Shaheen (D-N.H.) and Ben Sasse (R-Neb.) testified during the hearing.
"This panel was formed with political motivations," Shaheen argued, adding that she believes it should be disbanded because it constitutes an "inappropriate misuse of federal resources."
But Sasse argued that the panel is doing valuable work because no life is "disposable."
"Our humanity should be repulsed," he said. "Here, on this, we can and should agree: Babies are not the sum of their body parts. They're meant to be welcomed and nurtured."
The filmmaker behind the videos, David Daleiden, said in a statement:
What we learned from today's hearing is that Planned Parenthood and their business partners like StemExpress are engaged in a rampant, illegal, and horrific enterprise that harvests, trafficks, and sells aborted babies' hearts, lungs, and brains for profit. The undercover video admissions by senior level Planned Parenthood officials only scratch the surface of this barbaric trade — the financial documents uncovered by the Select Investigative Panel on Infant Lives prove that Planned Parenthood profited from trafficking fetal organs and tissues. We now know the criminal trade in body parts is spread nationwide throughout the abortion industry, with nearly 1 in 5 abortion clinics selling baby parts to StemExpress. Even the pro-Planned Parenthood witnesses called by the Panel minority agreed that a robust investigation should seek testimony and accounting documents from Planned Parenthood. We applaud the Select Investigative Panel for their excellent work on this important issue and encourage all levels of government and law enforcement to move forward quickly and decisively to ensure that those who sell aborted baby parts for profit are brought to justice under the law.