President and CEO of Planned Parenthood Cecile Richards spoke at a Catholic university on Wednesday – and so did one of her former employees.
When students at Georgetown University invited Richards to speak on campus, pro-life students decided to invite their own speaker, Abby Johnson, a pro-life activist and a former clinic director at Planned Parenthood.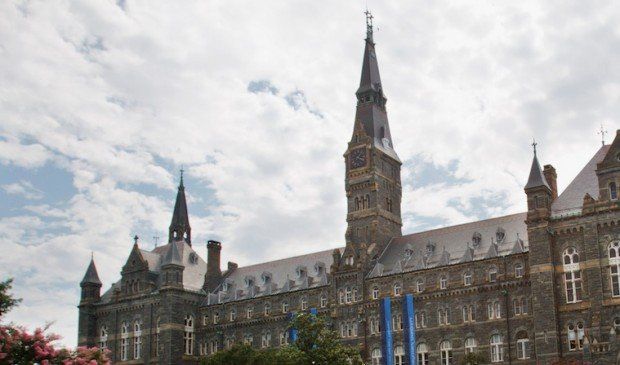 A building on the campus of Georgetown University. (AP Photo/Jacquelyn Martin, File)
Richards was invited by the university's Lecture Fund, a student-run organization, to speak on campus. The invitation from students at a Catholic university was met with controversy, and was condemned by several Catholic organizations, including the Archdiocese of Washington.
Planned Parenthood is the nation's largest abortion provider, and abortion goes against the teachings of the Catholic Church.
"Based upon my Twitter feed I know there were a bunch of folks who didn't want me to speak," Richards said during her speech. "So thank you for showing up!"
"I can't wait 'til the day Hoyas for Choice is an official campus group!" Richards added. "A girl can dream."
Richards used her speech to defend and promote her organization, including its mission to provide "safe and legal abortion."
"The world can be tough — it can be unjust. But here's the great news: Each of you has the power to do something about it," Richards said. "You get to build the world you want to live in."
A few hours later, in another part of campus, Johnson, one of Richards' former employees, spoke in defense of the pro-life cause.
Johnson, who converted to Catholicism after becoming pro-life, told students that she is a "testament to the power of conversion."
"No one is beyond the power of conversion because no one is beyond the power of Christ," Johnson said.
Johnson left her job at Planned Parenthood to found And Then There Were None, an organization that helps abortion clinic workers leave the industry. She said it is her sincere hope that one day Richards will be one of those former employees.
"I believe that one day, it won't be me up here speaking about the sanctity of life… it will be Cecile Richards," Johnson said. "And if we are people of faith, we better believe that. We better believe in that type of goodness, that type of kindness, that type of faithfulness from our God. Because I don't know about you, but the God that I serve is sort of in the business of miracles."
Johnson also said that while her faith leads her to be pro-life, she is pro-life "because of science."
"I'm pro-life because of medical ethics, because of medical technology, because of logic and because of reason," Johnson said.
—
Follow Kate Scanlon (@kgscanlon) on Twitter