House Speaker Paul Ryan (Wis.) pleaded with fellow Republicans, asking them to attend the GOP convention in July and support the eventual party nominee chosen by delegates.
"If you were planning on going to the convention, you should go," Ryan said Tuesday, CNN reported. "It could be a great historical exercise. I mean, it could be something you'll remember the rest of your life, so I would go if I were, if I had a chance to go."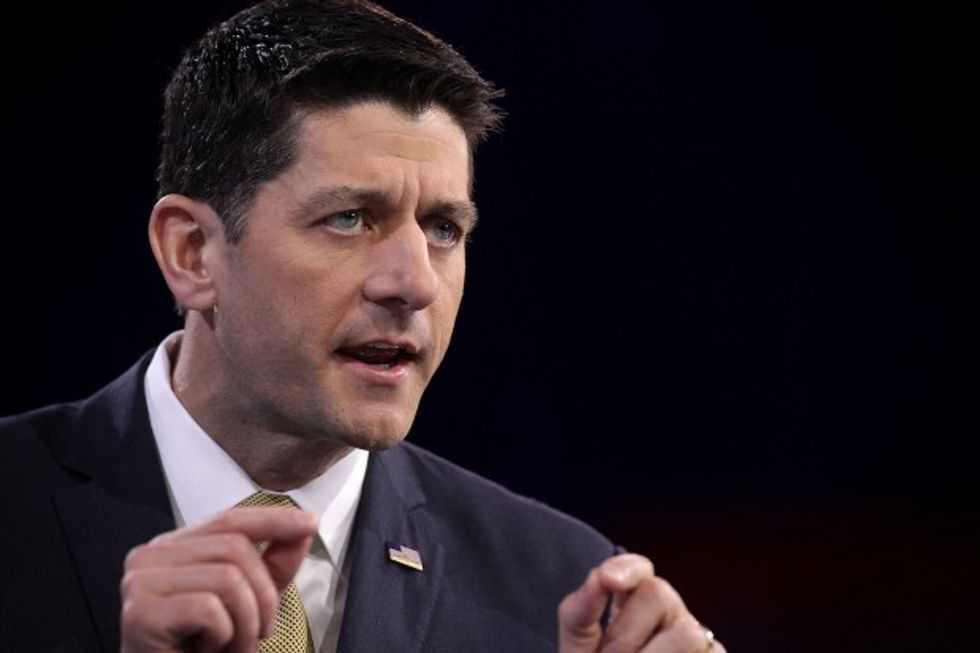 Speaker of the House Paul Ryan (R-Wis.) (Alex Wong/Getty Images)
Ryan's comments came in response to the mounting concerns of GOP lawmakers who have expressed the desire to skip what many are predicting to be a chaotic and contentious event and instead focus their energy on their own re-election campaigns in their home states.
But the House speaker, who also serves as chairman of this summer's convention, was insistent: "I think that we should go. This is our convention making our nominee, so I think everybody should participate."
CNN noted Wednesday that Ryan's latest comments on the Cleveland convention and the need for unity in the GOP were his most adamant to date. Ryan's plea came even as he criticized his party's presidential front-runner Donald Trump for claiming that the delegate selection process is "rigged" in an op-ed last week.
"I think the rules are the rules," Ryan said. "And people know the rules going into it, and we are going to follow the book by the rules and that is exactly how this convention is going to be run."
As tensions continue to rise in a divided Republican Party, several senators up for re-election, including Kelly Ayotte of New Hampshire, Mark Kirk of Illinois, Richard Burr of North Carolina and former presidential candidate John McCain of Arizona, have indicated that they will skip the convention.
Former Florida Gov. and presidential candidate Jeb Bush, who had a front-row seat to the Cruz-Trump feud while he was still in the race, told CNN last week that he, too, would skip the convention.
Trump has warned that there could be "riots" if he's denied the nomination in Cleveland, but Texas Sen. Ted Cruz has promised to meet Trump with equal force.
Meanwhile, Ohio Gov. John Kasich has admitted that his only chance of winning the nomination would be in a contested convention with multiple ballots.
Ryan, who, despite rumors that he was covertly gunning for the nomination, has firmly stated that he would not run for president this year even if delegates chose him in Cleveland. Instead, he continued to urged party lawmakers to put their differences aside and come to a unified decision.
"I'm not going to be skipping it," Ryan said. "People will make the decision on what they want to do. If you're a delegate, then they better not skip it."