Texas Sen. Ted Cruz lost New York's Republican primary Tuesday so badly that he even came in behind former presidential candidate Dr. Ben Carson in one of the state's congressional districts.
In Westchester County's 16th congressional district, Carson received 2,058 votes, or 12 percent, in Tuesday's Republican presidential primary. Cruz received only 1,762 votes to bring him to 11 percent in that area.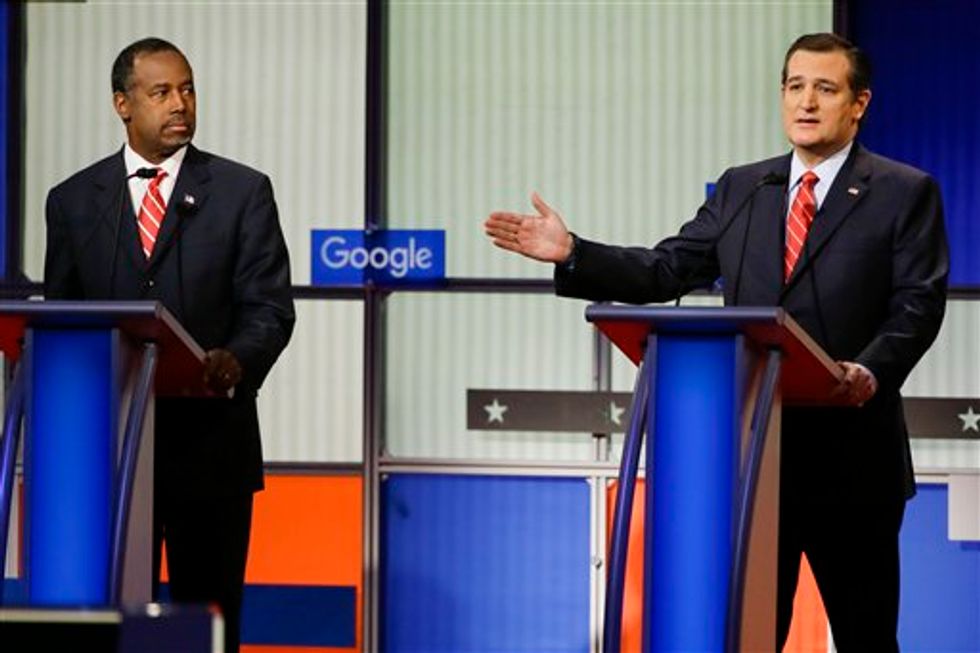 Republican presidential candidate Texas Sen. Ted Cruz answers a question as retired neurosurgeon Ben Carson listens during a Republican presidential primary debate Jan. 28 in Des Moines, Iowa. (AP Photo/Charlie Neibergall)
Overall, New York businessman Donald Trump won New York's primary with 60.4 percent. Ohio Gov. John Kasich came in a distant second with 25.1 percent of the vote, but he was able to at least receive a couple of the Empire State's 95 delegates.
Cruz won zero New York delegates.
Kasich, too, is no stranger to losing in a primary to a candidate who is no longer running. He came in behind Florida Sen. Marco Rubio in Arizona's and Idaho's March primaries after Rubio suspended his GOP presidential campaign.
(H/T: The Hill)
—
Follow Kaitlyn Schallhorn (@K_Schallhorn) on Twitter