It would be "more appropriate" for Harriet Tubman's likeness to be placed on a different bill rather than to replace President Andrew Jackson on the $20 bill, Donald Trump said in an interview Thursday morning.
The GOP presidential front-runner criticized the removal of Jackson — who ironically hated paper money — from the $20 bill as "pure political correctness" as he said the seventh U.S. president "had a history of tremendous success."
"Andrew Jackson had a great history, and I think it's very rough when you take somebody off the bill," Trump said during a town hall Thursday morning on NBC's "Today."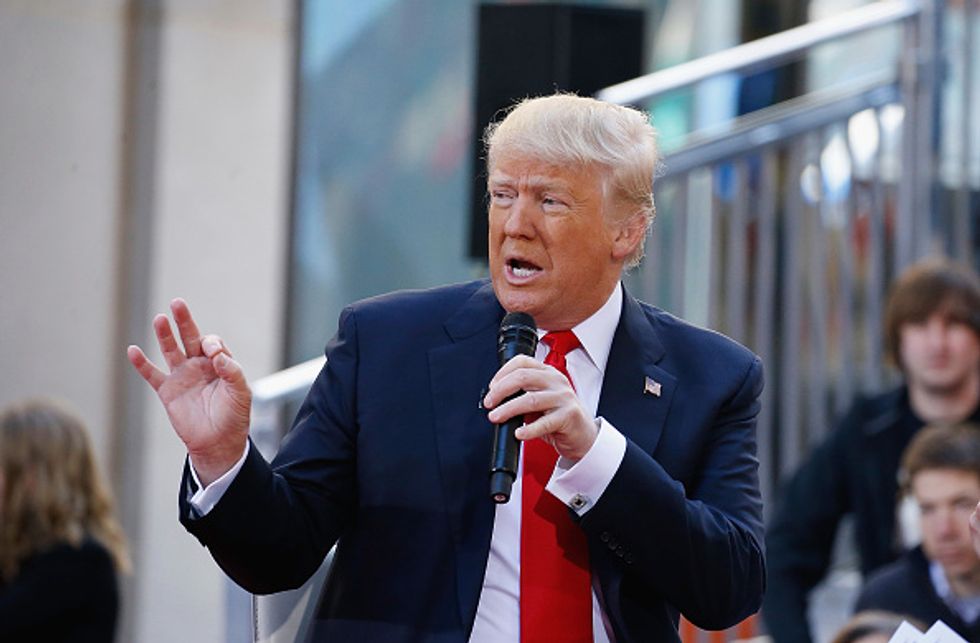 Donald Trump attends NBC's "Today" Trump Town Hall at Rockefeller Plaza in New York City Thursday. (Getty Images/John Lamparski)
"I think Harriet Tubman is fantastic. I would love to leave Andrew Jackson and see if maybe we could come up with another denomination. Maybe we do the $2 bill or we do another bill," the billionaire businessman continued. "I don't like seeing it. Yes, I think it's pure political correctness."
"I would love to see another denomination, and I think it would be more appropriate," Trump said.
Trump argued that the Broadway play "Hamilton" saved Alexander Hamilton from being removed from the $10 bill despite rumors that he would be replaced.
Trump's call for Tubman to grace that of another bill echoes that of former GOP presidential contender Dr. Ben Carson, who endorsed Trump last month.
Carson, too, advocated to keep Jackson on the $20 bill and put Tubman on the $2 bill, a rarely used currency that features former President Thomas Jefferson.
"I love Harriet Tubman," Carson said Wednesday during an interview with Fox Business. "I love what she did, but we can find another way to honor her — maybe a $2 bill."
Watch Trump's remarks on "Today":
.@RealDonaldTrump speaks out about putting Harriet Tubman on the $20 bill #TrumpTODAY https://t.co/tfeSHQ3ec7

— TODAY (@TODAYshow) April 21, 2016
—
Follow Kaitlyn Schallhorn (@K_Schallhorn) on Twitter